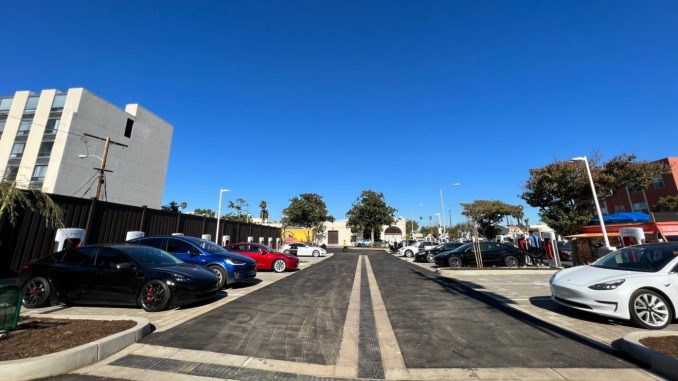 Tesla owners in Santa Monica now have a second place to Supercharge in the city.
Phase One of the Santa Monica Blvd Supercharger opened this afternoon with 26 V3 stalls now available for use at 1421 Santa Monica Blvd.
First charge at the new Santa Monica Superchargers! Thank you @elonmusk and @Tesla this will make a huge difference! pic.twitter.com/n38Vutxmqn

— Ryan Zohoury (@RyanZohoury) February 18, 2022
Construction began in early December, with crews working quickly to clear the site and install the first 26 V3 Supercharger stalls in the project's first phase.
Photos of the site from just a few days ago showed crews working on the final touches and paving the parking lot.
Amazing progress at the new @TeslaCharging supercharger in Santa Monica! Pavement going in today, opening day is imminent! So exciting! @Tesla @elonmusk @TeslaOwnersSCV pic.twitter.com/jGsjpeCIzp

— Zack (@BLKMDL3) February 15, 2022
As we note above, this is just the first phase of the Santa Monica Supercharger. The second phase is expected to begin construction soon and will add another 36 V3 Supercharger stalls on the vacant lot to the west, bringing the total to 62 stalls.
Depending on when it is completed it could be the largest V3 Supercharger station in the world.
However, we recently learned that a new station uncovered in Barstow will blow Santa Monica out of the water.
Massive new Tesla Supercharger coming to Barstow, California