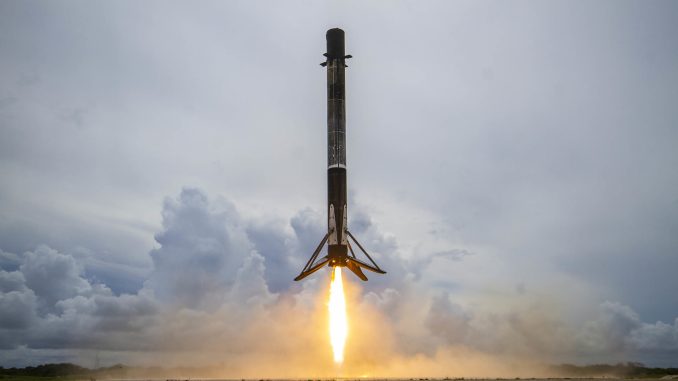 For the first time in three years, SpaceX will expend not one but three of its Falcon boosters.
As per mission notes, the three boosters will be expended on three separate missions over the coming weeks.
Thanks to Twitter user Alejandro Alcantarilla Romera (@Alexphysics13) for digging through mission notes to find this.
For the first time in over 3 years SpaceX will expend a Falcon booster on purpose. But it's not just one, it'll be three boosters. If schedules hold, the order will be B1066, then B1051-14, and finally B1049-11. https://t.co/qPXxrdwYQU

Here goes a 🧵 pic.twitter.com/6I3cW7iw8B

— Alejandro Alcantarilla Romera (Alex) (@Alexphysics13) October 10, 2022
B1066 is a Falcon Heavy center core that will launch on the USSF-44 mission. That rocket will be expended to push the mission's payloads into GEO orbit.
B1051-14 is a Falcon 9 booster to fly the Galaxy 31 and Galaxy 32 mission. This booster was the first Falcon 9 booster to hit ten flights and will be expended to push the Galaxy satellites to an energetic GTO.
Finally, the B1049-11 is a Falcon 9 booster that will push the Eutelsat 10B mission into orbit. This booster was part of the first Starlink mission back in 2019.
While it is unusual for SpaceX to be expending boosters, it is not unheard of and they do this every so often so they can use and get rid of the most problematic boosters with older designs. This is done to make the fleet as a whole more efficient.
Both the B1051-13 and B1049-11 boosters are the oldest Falcon 9 cores still in service in SpaceX inventory.
SpaceX has made space launches more sustainable with multiple launches from its boosters.
Initially, SpaceX had planned to reuse rocket boosters ten times when it debuted its Block 5 booster.
However, since then, the company has re-certified and is now able to reuse rockets at least fifteen times.