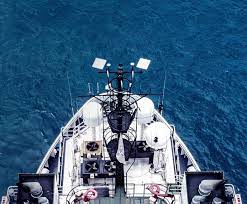 Japan's largest shipowner, Mitsui OSK Lines (MOL), announced it would trial Starlink internet services on its vessels.
According to a report by Splash, the company has been searching for a better ship-to-shore communication option, and they think Starlink might be the solution.
In addition to improving ship operations, Starlink services will also increase the onboard life of seafarers with dependable high-speed internet access.
In a released statement, MOL stated this:
Starlink's constellation of satellites in low Earth orbit (LEO) enable much lower latency and higher-capacity communications than traditional satellites, and Marlink offers the services for maritime application with established satellite communication and Starlink.
This is one of the first major shipping lines to test Starlink services.
This comes after Royal Caribbean announced that it would switch to Starlink services for its fleet.
Marlink, Speedcast and Immarsat have long dominated the maritime VSAT market.
So, as Starlink Maritime continues to expand, how existing VSAT solutions respond will be something to track.
Of note, Marlink and Speedcast are now also offering their clients Starlink services as a wholesaler.
VSAT agreements are generally for three to five years, so as these contracts come up for renewal, it will be interesting to track how many follow MOL and Royal Caribbean and make the jump or even test out Starlink Maritime.