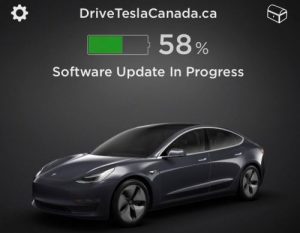 After what seems like forever, Tesla appears to have finally released the second half of their holiday software update with the deployment of 2021.4.2 this evening.
UPDATE: False alarm, 2021.4.2 only contains bug fixes and minor improvements.
The first vehicles started receiving the update at around 5:00pm PST.
— Drive Tesla 🇨🇦 #FSDBetaCanada (@DriveTeslaca) February 10, 2021
The Tesla stats and software update tracking service Teslascope reported that 75 vehicles on their platform were downloading the update. Similarly, TeslaFi also reported more than 250 vehicles on their service were receiving the update.
The Tesla software update 2021.4.2 is releasing to the global fleet, with 75 vehicles on our service now downloading/installing it.

More details pending! https://t.co/HWwJaO2vbe

— Teslascope (@teslascope) February 10, 2021
250+ pending installs of 2021.4.2 incoming!

— TeslaFi (@teslafi) February 10, 2021
There have been no owners who have reported finished installing the new software. We'll update this article once we learn more.
2021.4.2#notV11 pic.twitter.com/FyrooVfmL2

— Ryan Shaw (@ryanshawtech) February 10, 2021
This is a developing story, keep checking back for updates.