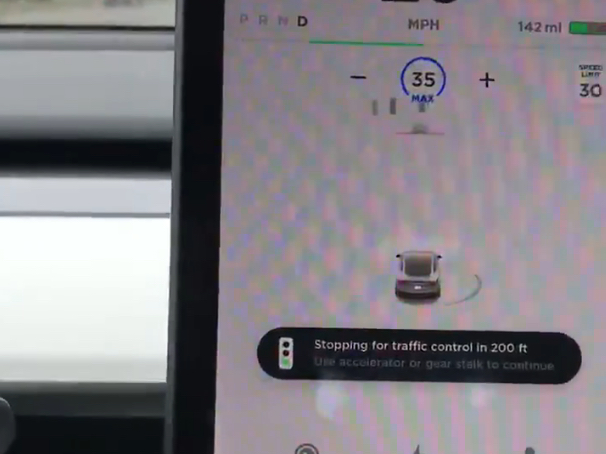 Tesla's latest software update, 2020.40.1 was released earlier today to Early Access Program users, improving the new Traffic Light and Stop Sign Control (TLSSC) feature.
Save with big discounts at your favourite Tesla accessories stores, like 10% off at Tesmanian, TesBros and Nikola Pro, plus many more. Coupon codes at DriveTeslaCanada.ca/deals.
The feature, which was first released back in the US April and in Canada in June, would make the car stop at all traffic lights, regardless of what stage they were at (red, yellow, green). To proceed through the intersection the driver would need to provide confirmation either by tapping the accelerator and using the gear stalk.
Tesla later updated the feature to allow the car to proceed through a green light without confirmation from the driver when there was a lead car in front.
Now Tesla has updated the feature yet again in the 2020.40.1 software update, allowing the car to proceed through a green light without confirmation and without a lead car in front of it.
Get 10% off at Tesloid.ca or Tesloid.com with coupon code DTC10 at checkout. Quality Tesla accessories with FREE shipping across Canada and the US.
Autopilot 2020.40.1 can confirm itself through green lights without a leading car.

Another small step closer 😃

— Whole Mars Catalog (@WholeMarsBlog) October 2, 2020
There is a catch though, as the release notes (via Electrek) indicate the feature will only work in simple situations for now, like a straight-through intersection.
Traffic Light and Stop Sign Control (Beta)
As you approach a green traffic light, in some situations where there is a straight path through the intersection, the Traffic Light and Stop Sign Control feature may no longer require explicit driver confirmation. If this occurs, the stop line in the driving visualization will turn green to indicate that the car will continue through an intersection. Confirmation is still required if your car is already stopped at the light when it turns green.