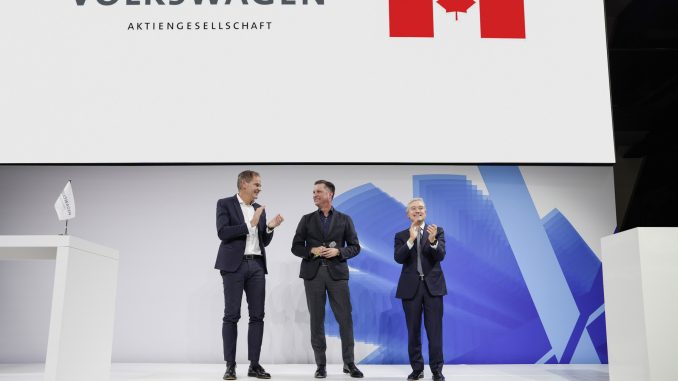 Volkswagen has announced it has selected Canada for the location of its first North American battery cell factory. The decision to set up shop north of the border will allow the German automaker to take advantage of the incentives set up under the Inflation Reduction Act (IRA) in the US.
For months VW has been scouting potential locations in Canada after having signed an addendum to their memorandum of understanding (MOU) with Canada in December. Canada and VW originally signed a MOU in August that provided the German automaker with access to Canadian raw materials such as nickel, cobalt, and lithium.
Three months later and VW picked a site in St. Thomas, Ontario, located just south of London and about two hours away from the Canada/US border.
VW did not provide many details on the new battery cell factory, like when construction will start or the plant's proposed capacity, but the automaker is looking to 2027 for the start of production. The automaker said Canada "offers ideal conditions, including the local supply of raw materials and wide access to clean electricity."
"Today's announcement by Volkswagen is a true testament to our highly skilled workforce and Canada's strong and growing battery ecosystem. VW's decision to establish its first overseas gigafactory in Canada speaks to our country's competitiveness when it comes to attracting major investments. It is also a vote of confidence in Canada as the green supplier of choice to the world. With Volkswagen and PowerCo, our government looks forward to working together towards a cleaner, more sustainable and resilient economy," said François-Philippe Champagne, Canada's Minister of Innovation, Science and Industry.
The announcement of a new battery cell plant in Canada follows another announcement last week from VW in which it said it will set up a facility in South Carolina for the Scout brand where the automaker plans to build 200,000 Scout EVs per year starting in 2026. The pair of announcements is a major step for VW in their plans to regionalize and shorten their supply chains.
"Our North American strategy is a key priority in our 10-point-plan that we've laid out last year. With the decisions for cell production in Canada and a Scout site in South Carolina we're fast-forwarding the execution of our North American strategy," said Oliver Blume, CEO Volkswagen Group.