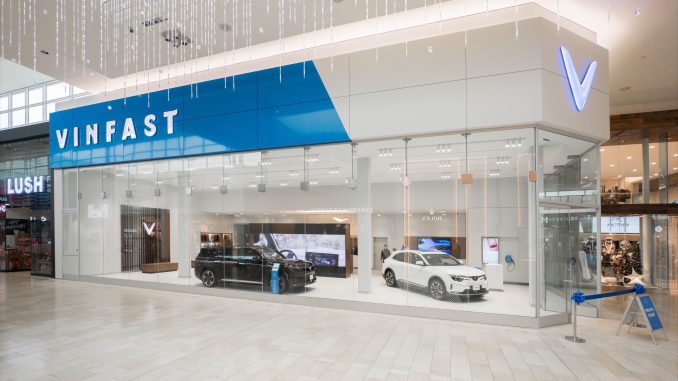 Vietnamese automaker VinFast has opened its first showroom in Canada in Toronto's Yorkdale Shopping Center, ahead of the first deliveries expected before year's end.
The flagship location is the first of eight planned retail and service locations set to open this year. The next locations scheduled to open will be in CF Carrefour Laval in Quebec and the Park Royal Shopping Centre in Vancouver, according to a press release from VinFast.
The Toronto store and others are designed to convey the "Future of Mobility," featuring open and minimalist design akin to Tesla's showrooms.
VinFast VF8 and VF9 are on display in the store, where customers can get an up close look at the automaker's first two electric vehicle offerings, and also schedule a test drive.
"The opening of the first store in Canada marks the next milestone in VinFast's global expansion journey. Our network of stores will be key in interacting with our customers, ensuring quality service, and strong relationships in Canada on our journey towards a sustainable future," said Mr. Huynh Du An, CEO of VinFast Canada.
The VF8 SUV is the first EV from VinFast expected to be delivered in Canada and the US next month.
Potential customers visiting the store who plan to order one will pay much more expensive than originally advertised. In September Drive Tesla exclusively reported the automaker had quietly increased prices on both the VF8 and VF9 by as much as $10,240, pushing the VF9 to be over the $100,000 mark.
The company also increased the price of its battery subscription model, setting the monthly fee to as much as $349 per month.
VinFast quietly increases North American vehicle and battery subscription prices, pushing VF9 to over $103K in Canada