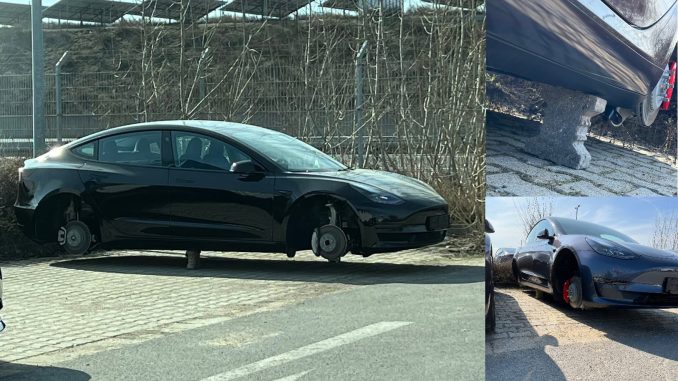 What should be an exciting and happy day for nearly a dozen new Tesla owners in Germany has turned into a nightmare.
Over the weekend the Weiterstadt delivery hub was targeted by a group of thieves, who took off with several sets of brand new wheels and aero caps from 11 different brand new Model 3 and Model Y vehicles waiting to be delivered.
According to a local police report, the thieves did their work sometime between 6:00pm on Friday, March 11, and 9:00am on Saturday March 12.
During their heist they stole the full set of wheels from six different vehicles, leaving them sitting on cinder blocks, likely causing some damage to the undercarriage and battery pack.
They also stole the aero caps from another five vehicles.
After news of the crime broke, members of the TFF forum visited the site to see the extent of the damage, which police estimate is in the five-figure range.
Not content with their loot of stolen goods, the police report says they also smashed the glass roof on one of the vehicles, without specifying if it was a Model 3 or Model Y.
The local police are investigating and seeking witnesses or anyone who may have information on the criminals.
This late night crime comes just a few days after Tesla announced a new late night delivery option in Germany called 'Tesla Drop.'
The new option allows customers to pick up their cars outside of business hours.
New "Tesla Drop Delivery" service introduced in Germany allowing customers to pick up new cars outside of operating hours