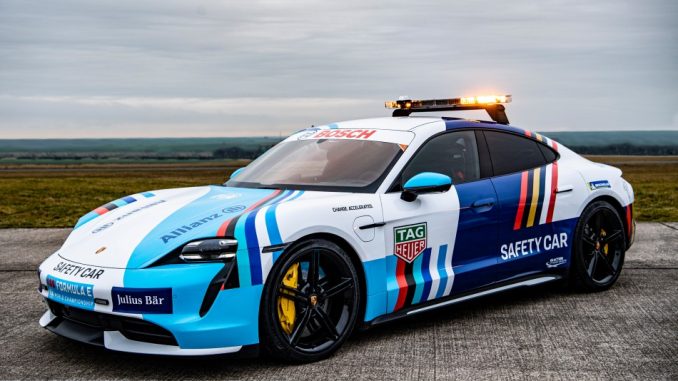 The FIA announced that the Porsche Taycan will be the newest safety car for the ABB FIA Formula E Championship.
Formula E opens its season on January 28-29 in Diriyah, Saudi Arabia and will make its debut appearance in Vancouver in July.
The FIA needed to make a few adjustments to the high-performance Taycan Turbo S before becoming the official safety car. These adjustments included the addition of a roll cage, racing bucket seats, and safety car lighting.
In addition, the FIA added the Marelli Logger System to the vehicle.
The vehicles livery is a combination of the colours of all eleven teams competing in the championship in 2022. The vehicle has the colours of the FIA and Formula E. The FIA also numbers the vehicle number 22 in honour of the 22 drivers racing on the series this year.
The Formula E series is the only all-electric motorsport FIA World Championship and is the top all-electric driving competition.
The series will be in iconic cities in 2022, including London, New York, Berlin, Monaco, Seoul and Mexico City.
2021 saw Mercedes-EQ take the Formula-E constructors championship and Nyck de Vries claiming the world champion title. 2022 is setting up to be an exciting year, especially with the addition of ex-F1 driver Antonio Giovinazzi taking a seat for Dragon Racing.