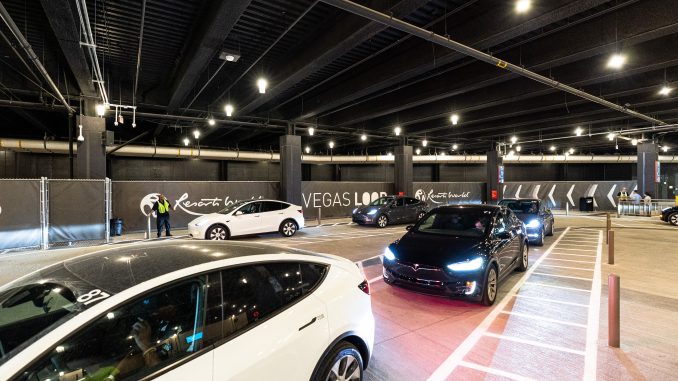 Taking a ride in a Tesla through the Vegas Loop is currently free, but when The Boring Company starts accepting fares, passengers will be able to pay with Dogecoin.
Last week the Vegas Loop expanded to the Strip with the first passenger station outside of the Las Vegas Convention Center (LVCC) opening at Resorts World Las Vegas. According to a report by CNN, that is when the alternative method of payment first surfaced.
According to the report, customers will be able to scan a QR code at the station, which will them prompt them for payment. Customers will then be able to select to pay for their ride with their credit card or Dogecoin.
The Boring Company hasn't announced when it will start accepting fares, but they have previously released what they hope to charge. Based on the sample fares published last year, a five-minute ride from McCarran Airport to the LVCC would cost $10 per vehicle.
Shorter rides from downtown Las Vegas to the LVCC, which should take about 3 minutes, would cost $5 per vehicle.
The Vegas Loop first opened last year with a pair of 1-mile long tunnels under the LVCC. The Boring Company received unanimous approval last month to eventually expand to be more than 30 miles long and have more than 50 passenger stations. The network of tunnels will run from McCarran International Airport and run through the Resort Corridor and up to the Fremont Street Experience.
The Boring Company is the last venture from Elon Musk to dive into the world of cryptocurrency. Tesla once accepted Bitcoin as a method of payment for its vehicles, before abruptly removing the option soon after.
Tesla has since started accept Doge for some of its merchandise, and the SpaceX shop has also added Doge as a method of payment.
Source: CNN