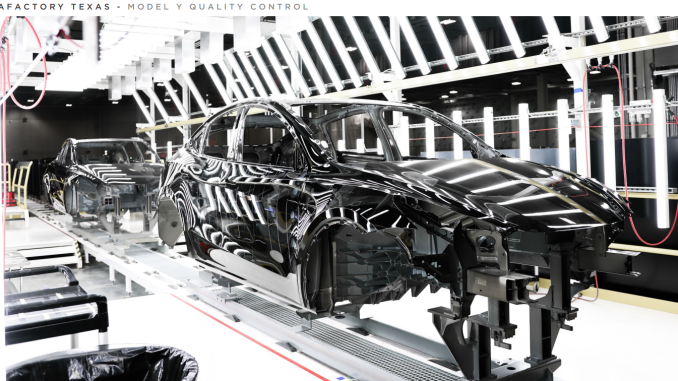 Tesla had an impressive first quarter of 2022 that beat Wall Street estimates by quite a bit in both earnings per share and revenue.
Ahead of Tesla's Earnings Call, the company released their Q1 2022 Update Letter that provides a bit of a deep dive into its happenings in the first quarter. Here is what it said.
Earnings per Share
Tesla beat Wall Street estimates by almost a whole dollar. The company posted a $3.22 non-GAAP earnings price per share in Q1.
Revenue
Tesla had a great Q1 in terms of revenue, and it beat the Wall Street estimate of $17.8 billion by almost a billion. The total revenue was $18.756 billion, with a gross profit of $5.460 billion.
Profitability
Tesla posted a $3.6 billion GAAP operating income with a 19.2 per cent operating margin. Overall, the company posted a GAAP Automotive gross margin of 32.9 per cent.
Battery Technology
Tesla noted that they have moved to diversify their battery and powertrain technology. The letter states that nearly half of Tesla vehicles produced in Q1 had a lithium iron phosphate (LFP) battery. These LFP batteries contain no nickel or cobalt. The company installed the new LFP batteries in most standard range vehicle produced and commercial energy storage applications.
Tesla Energy
Tesla Energy saw deployments increase by 90 per cent year over year on their Powerwall deployments. However, the solar side saw a decrease of 48 per cent due to import issues around specific solar components.
Vehicle Factories
Tesla's section on vehicle factories touched on challenges they faced with transportation, labour, manufacturing and the global supply chain. These challenges limited production. However, Q1 also saw two new Giga factories open in Texas and Berlin, and along with Fremont, the three factories are starting to ramp up. This section also touched on the Giga Shanghai shut down, but we should hear more later on today.
Today, Tesla's Q1 Earnings Call will kick off at 5:30 EST or 2:30 PST.