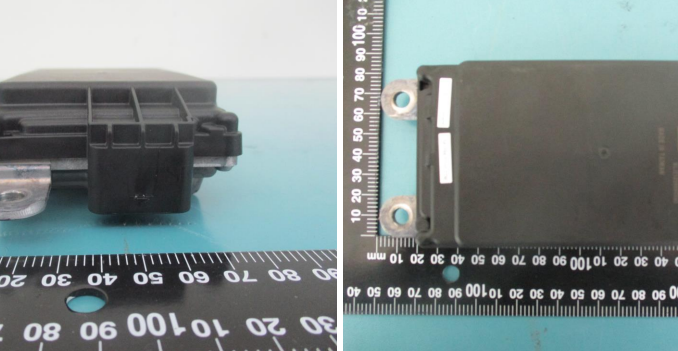 After months of waiting we finally have our first look at Tesla's new radar unit in newly unsealed documents from the Federal Communications Commission (FCC). Tesla famously decided to remove radar from the Model 3 and Model Y in mid-2021, and later the Model S and Model X, deciding to instead rely on the vehicle's on-board cameras for its safety and driver-assist features.
We have known about this new radar unit since last year when documents submitted to the FCC were uncovered. The more important documents, which contained additional details and photos of the radar unit were requested by Tesla to remain confidential until the new year as the device was supposed to be "marketed" in mid-January. That date came and went without an announcement as Tesla later requested a further extension to March 7, 2023. Today those documents have been unsealed early and posted to the FCC website. (h/t: @ankinnyc)
According to the documents the radar unit will be placed behind the front bumper, as illustrated in this diagram with the Model X. This is the same location as it was before Tesla decided to remove radar units in 2021.
As for the new radar unit itself, it is described in the testing documents as a "non-pulsed Automotive Radar which operates in the 76-77 GHz spectrum and supports 3 sensing modes." This means Tesla will be using the frequency modulated continuous wave (FMCW) technique to estimate distances to objects in close proximity to the car. This allows for a smaller physical size of the radar unit itself and one that uses less power and is much cheaper to produce compared to pulsed radar units, which are commonly used in military applications to measure distance over much longer distances.
Here's what the radar unit looks like, both with and without the enclosure.
Some photos of the internals of the radar unit were also included, which shows it has 6 antennas but according to the documents only 4 can transmit at the same time, as outlined in the image below.
This paragraph is prefaced by saying we are by no means experts in radar testing, but after reviewing the documents, it appears this radar unit is like all other automotive radar units used for adaptive cruise control systems. When it was first uncovered last year it was billed as high resolution radar, but it is unclear what, if anything, makes this radar unit superior to others currently on the market, even compared to the units Tesla used to include until they decided to remove radar from their cars nearly two years ago.
What we do know is that this radar unit will form part of Hardware 4.0 (HW4), which is expected to be announced in the coming days, especially given that these documents have now been unsealed. We are expecting it to be included in the Model S and Model X at first, as Tesla has received approval to sell these cars equipped with HW4 in Europe. Tesla has also listed hundreds of these vehicles on their existing inventory site at deep discounts in an attempt to clear their North American inventory before the release of cars with the new hardware.
From what we have been told there are cars already being built at Fremont with HW4, but none have been handed over to customers yet. We have also been told that HW4 is being tested at Giga Berlin, potentially indicating HW4 in the Model 3 and Model Y might not be too far behind.
We also know that HW4 will not be able to be retrofitted to cars equipped with the current HW3 as a teardown shows the new HW4 has additional camera inputs, speculated to be for new cameras on the front and rear bumpers.
You can read through all of the documents here. If any of our readers are radar experts, please let us know what you make of it in the comments below or email us at tips@driveteslacanada.ca.