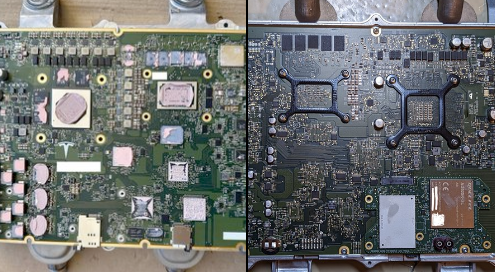 Tesla has yet to announce their new Full Self-Driving (FSD) computer known as Hardware 4 (HW4), but well-known hacker @greentheonly has been able to get his hands on one of the computers and perform a teardown, revealing some new information about what we can expect, and confirming some of what we already knew.
According to a series of tweets published by green on Wednesday, Tesla is already building and including HW4 in new Model X builds from Fremont, although none have been delivered to customers yet. Green doesn't explain how he was able to obtain one of the units, but he does share numerous detailed photos to confirm its legitimacy.
From the outside the new HW4 is very different in shape and size, with green sharing side-by-side photos to show it is much thinner than the current HW3 computer. This all but confirms that a retrofit will not be possible, echoing what CEO Elon Musk said last month during the company's Q4 2022 earnings call.
To start with sorta bad news, The form-factor is totally different, so definitely no retrofits on this one.
top/left is new unit, bottom – current plaid unit) pic.twitter.com/iHziGZPIBj

— green (@greentheonly) February 15, 2023
On the inside there are a number of changes as well. Green explains the self-driving computer is more powerful than HW3, though less than expected, and is now combined with the infotainment on the same board, allowing for the thinner form factor. However that extra power also means it will also have a bigger impact on your vehicle's battery. According to green it consumes twice the amount of power when idling compared to HW3.
Power consumption at idle is about double from HW3 based on my measurements and those power pins are pretty massive. which makes the "Input 16V@10A" label somewhat suspect. pic.twitter.com/dmXkRHkIce

— green (@greentheonly) February 15, 2023
Now on to the exciting pieces of information green was able to uncover, the first of which is the new computer has "12 fully populated camera connectors," although one is marked as spare. Green speculates the additional camera inputs are for new front and rear bumper cameras that will eliminate the blind spots that exist with the current 8-camera setup. This again confirms that a retrofit is not going to be "economically feasible," as Musk described last month.
What's SVC you might wonder? According to EPC, SVC is bumper. So I'd guess these are bumper cameras. There's a huge blindspot upfront on legacy cars up front (welcome to the legacy camp, Plaid owners!), so front bumper camera and two in the (rear?) bumper corners for x-traffic pic.twitter.com/sixzNo7qII

— green (@greentheonly) February 15, 2023
Then of course there is the new "bespoke Phoenix radar" unit, which we already knew was coming based on a filing with the FCC last year.
Radar: Yes, there's now the bespoken Phoenix radar (yes, of course there is and yes that's what it's called in the properties too). There's also the radar heater of course. pic.twitter.com/7inrjGmBM0

— green (@greentheonly) February 15, 2023
Unfortunately the one big piece of information, when HW4 will be launched, is still unknown. As noted earlier Tesla is already including HW4 in new Model X builds at Fremont, but not yet delivering them to customers. That could change very soon however as the existing inventory section of their website was recently flooded with new Model X vehicles. There are currently 400 available in the US and 179 in Canada according to third-party inventory tracker WaitingForTesla.com. This implies that Tesla is attempting to clear out their inventory before launching the new hardware.
With Investor Day coming up on March 1, that seems like as good of a time as any to announce the start of deliveries with HW4.
You can check out green's full Twitter thread by clicking on the tweet below, and also view high-res images of HW4 below that.
I am sure you are all eager to know more about HW4, so I am going to show you the refreshed car computer from a Model X. Just don't tell anybody you saw it, because it's really a secret still.
This unit made appearance at the EPC about a month ago, but the picture was hidden. pic.twitter.com/7AENqP6h2Z

— green (@greentheonly) February 15, 2023