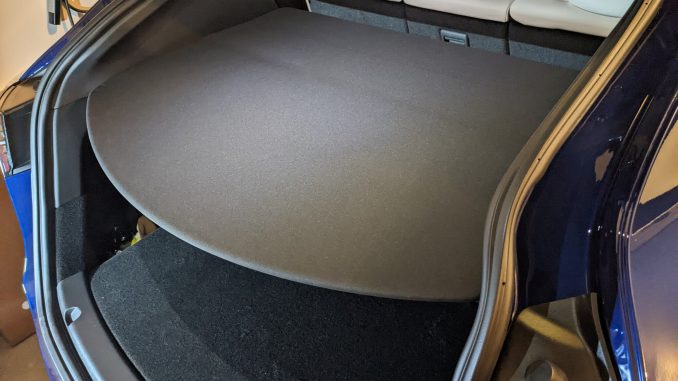 Over the last month or two there have been several reports of Tesla Model Y owners taking delivery of their electric SUV with the new Parcel Shelf, or cargo cover as it is more commonly known as.
Not every new Model Y owner was receiving the Parcel Shelf however, making it appear as though Tesla was transitioning the new part into its production processes at Fremont.
Tesla has now announced it has officially been added and all new Model Y cars being built in California on or after October 20, 2022 will include the Parcel Shelf, along with the updated side trim that keeps it in place.
Tesla confirmed the new addition in an email to employees on Thursday, a copy of which was obtained by Drive Tesla. The email also confirmed that the Parcel Shelf has officially been in every Model Y made at Giga Texas since August.
The Parcel Shelf was first introduced at Giga Shanghai last year. It works slightly different than most typical cargo covers as it is not retractable. Instead it is a hard, foldable cover that Tesla says helps "conceal valuables, keep the sun away from groceries, or minimize noise from rustling objects."
Some owners have already been able to retrofit and add the Parcel Shelf to their Model Y, and they have reported that it does quieten the cabin considerably. The two side trim pieces and Parcel Shelf itself cost around $200 USD, making it a fairly inexpensive retrofit.
Here are the part numbers required for the retrofit that can be purchased from Tesla directly, along with a couple of photos of the Parcel Shelf laying flat and folded in, and a video showing it in action. You can also read more on the steps involved here.
Left = 1622252-98-B (SP, C Pillar Upper Trim, ASY, LH)
Right = 162253-98-B (SP, C Pillar Upper Trim, ASY, RH)
Parcel Shelf = 1641293-97-B END ITEM, PARCEL SHELF
MIC Model Y now comes with OEM Cargo Cover!
Car delivered in Hong Kong starting from yesterday comes with the cargo cover. It cannot be lifted but instead you can push it forward and make it a Z shape. There is a magnetic mechanism which holds the cover in place. pic.twitter.com/NjIYcinJDe

— EVOffer (Tesla Offer) (@EVOfferOfficial) November 14, 2021