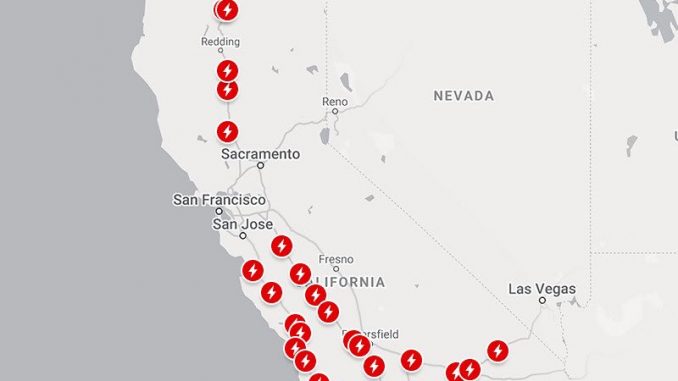 If you live in California and are planning to hit the road on the upcoming 4th of July holiday weekend, Tesla is offering free Supercharging at select stations.
In a message sent to owners in California this morning, there will be no fees when plugging in before 12:00pm (noon) and after 9:00pm. The promotion begins on Friday, July 2nd and ends on Monday, July 5.
https://twitter.com/SCMountainDad/status/1409549287357247490
The free Supercharging promo is only available at following locations, including the popular Kettleman City Supercharger and the new 56-stall Firebaugh Supercharger.
Atascadero, CA
Baker, CA
Bakersfield, CA – I-5
Barstow, CA
Buellton, CA
Buttonwillow, CA
Corning, CA
Firebaugh, CA
Goleta, CA
Greenfield, CA
Gustine, CA
Harris Ranch
Hesperia, CA
Kettleman City, CA
Mojave, CA
Mount Shasta, CA – 111 Morgan Way
Mount Shasta, CA – 134 Morgan Way
Paso Robles, CA – Golden Hill Road
Pismo Beach
Red Bluff, CA – Belle Mill Road
Salinas, CA
San Luis Obispo, CA – Madonna Inn
Tejon Ranch
Williams, CA – 6th Street
Yermo, CA
This isn't the first time Tesla has offered a Supercharger promo in California to help ease congestion on what should be a busy weekend. Last year Tesla offered reduced rates on the Thanksgiving weekend.