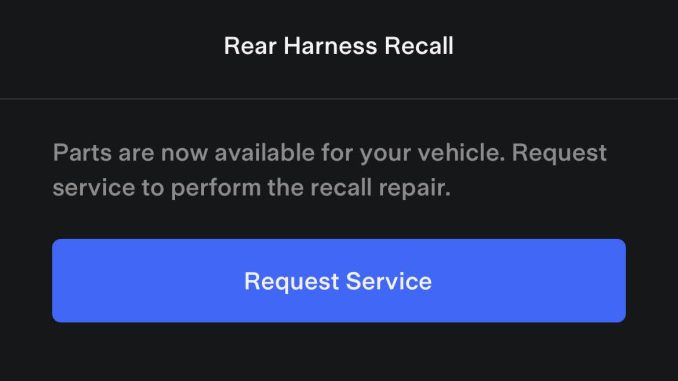 Tesla has added the ability to see if there are any outstanding recalls for your vehicle directly from within your mobile app.
Previously you could check to see if your vehicle had a recall by entering your Vehicle Identification Number (VIN) in the VIN Recall Search tool on Tesla's website. While the site is still active, you can also now see any active recalls by going to Service menu within your app.
On our mobile app we can see that our 2019 Model 3 is subject to the Rear Harness Recall. This recall is related to the trunk harness and covers all 2017-2020 Model 3s.
Tapping on the button to get more info shows that we are able to request a service to have our trunk harness inspected and if it ok a guide protector will be installed to ensure it doesn't crack in the future. If it is already damaged, it will be replaced, free of charge.
This is one of the few recalls recently issued by Tesla that require an actual visit to the service team (or a visit from a mobile ranger). Most of Tesla's recalls are software related and require a simply over-the-air (OTA) software update to fix.
The most recent example was earlier this month and covers 129,960 Model S, Model 3, Model X, and Model Y cars for a potentially overheating main display.
Despite mainstream media headlines that Tesla was recalling so many vehicles, the fix was a simple OTA software update, which had already been deployed before the recall notice was posted to the National Highway Traffic Safety Administration (NHTSA) website.