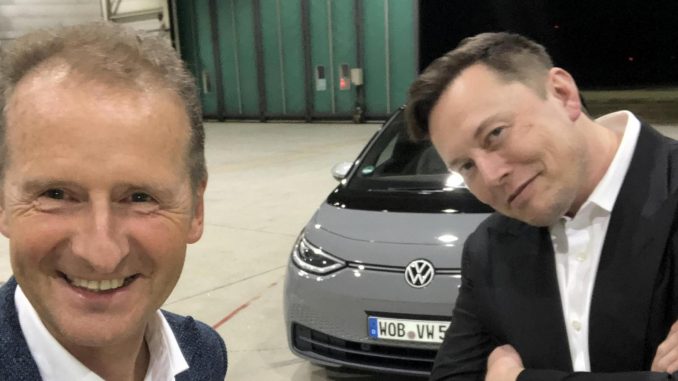 Tesla will lose its top spot in the world's electric vehicle (EV) sales rankings by 2025 to Volkswagen, according to a market forecasting analysis by LMC Automotive.
Over the course of the next five years, LMC estimates Tesla's current market share of more than 20% of global EV sales will drop to 10% by 2025. On the other side, VW will grow from its current share of less than 10% to more than 15%.
LMC managing director Pete Kelly revealed his firm's analysis at an online forecast event last week.
"Tesla has been dominant as a brand in the past five years but clearly that can't last," Kelly was quoted as saying by Automotive News Europe.
Despite the predicted drop for Tesla, Kelly's estimates still put it ahead of other automakers who he says will remain stagnant over the next five years.
The Renault Nissan Mitsubishi alliance (e.g., Renault Zeo and Nissan Leaf) and Hyundai Motor Group (Hyundai and Kia) will each retain 7% and 8% of the EV market respectively.
Related:  Tesla holds the #1 spot in worldwide 2020 EV sales
Other automaker will also increase their share of the EV market. By 2025 he predicts Daimler will grow from 2.5% to 5%, Toyota from 1% to 5%, Ford from nearly 0% to 4%, and General Motors (GM) from 2% to 5%.