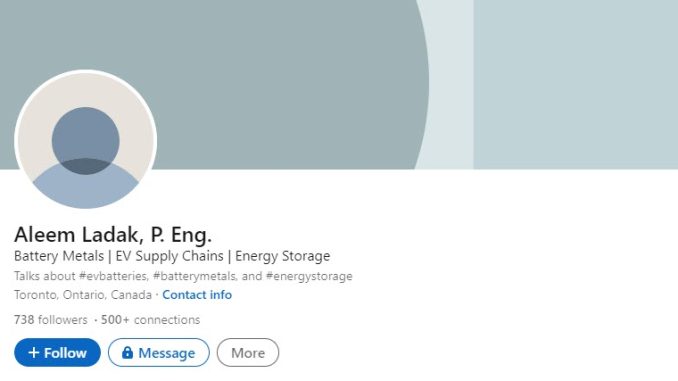 Tesla has officially found its Critical Minerals and Supply Chain lead in Canada. A few months ago we reported that Tesla was looking for a Senior Policy Associate in critical minerals and supply chain.
As per reporting by Electric Autonomy Canada, Aleem Ladak has accepted the position and is now in the role.
Ladak was listed as a Senior Policy Associate for Tesla in the latest Quebec lobbyist registry filings. According to the filing, Ladak has been working with Tesla since August.
However, Ladak is not registered as a lobbyist in Ontario or with the federal government.
These documents were filed only a few days after Tesla reportedly visited Nouveau Monde Graphite in Saint-Michel-des-Saints, Quebec.
It is not clear if Ladak was present during the Tesla visit. Nor do we know if Ladak was present in meetings with Minister Champagne of Innovation, Science and Economic Development Canada.
However, we do know that from LinkedIn, Ladak is a mining engineer located in Toronto.
He previously worked as a Senior Mineral Economist and Battery Mineral Advisor at the Ontario Ministry of Energy, Northern Development and Mines.
Although we are not clear on the exact work Ladak is doing, we know that this is what Tesla envisioned for the position.
This is from the job poster back in April.
In this position, the successful candidate will have a unique opportunity to inform public policy development related to battery supply chains and sustainable energy, in addition to electric and autonomous vehicles, while working at the federal, provincial, and municipal levels of government. The role includes a combination of policy, regulatory and advocacy work.
All of this comes after months of rumours and speculation that Tesla will soon announce a major expansion into Canada.
The automaker has been lobbying the federal government to set up an "advanced manufacturing facility" north of the border, meeting with federal officials at least four times over the last six months.
Tesla has also reportedly visited a graphite mine in Quebec, the same province where they are currently looking for a "high-volume" recruiter.
We could be finding out soon if Tesla has picked Canada for their next Gigafactory. During the Annual Shareholder meeting Elon Musk said an announcement could happen before the end of the year.