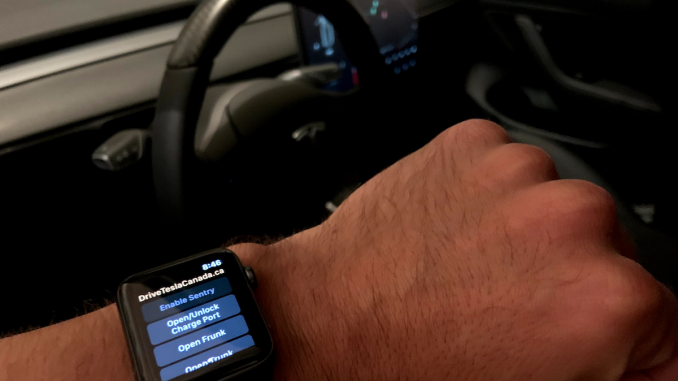 One of the big changes when going from a traditional car to a Tesla is ditching the car keys. Instead, you only have to carry your phone with you to lock and unlock your car (among other things).
That is possible thanks to the Tesla mobile app, which unfortunately does not have a companion Tesla Apple Watch app. But that could soon be changing as Tesla is rumoured to have already developed one.
According to comments made by a user on Reddit with a history of providing good information, the basics of the app have already been designed, and it should appear on the App Store soon. (Update: the comment has since been deleted)
Card
This would be a welcomed and often requested addition that would provide even more flexibility for Tesla owners.
The one device that you are rarely without is your Apple Watch attached to your wrist. How many times have you gone to grab something from your car, only to realize you don't have your phone with you, forcing you to go back and grab it from where you left it?
There are already some third party solutions with Apple Watch companion apps that allow you to control your Tesla from your wrist. The best is the Stats App, which you can even set up to have Siri open your trunk with just your voice.
Would you like an Apple Watch Tesla app? Let us know in the comments below.
Did you see the #ModelY Siri trunk video? Oh look, you can also open your #Tesla #Model3 trunk with your Apple Watch and Siri. Get 15% off the trunk kit from Hansshow with coupon code drivetesla at checkout https://t.co/FYSUUseNAc pic.twitter.com/1pZhwfGrrT

— Drive Tesla 🇨🇦 (@DriveTeslaca) April 11, 2020