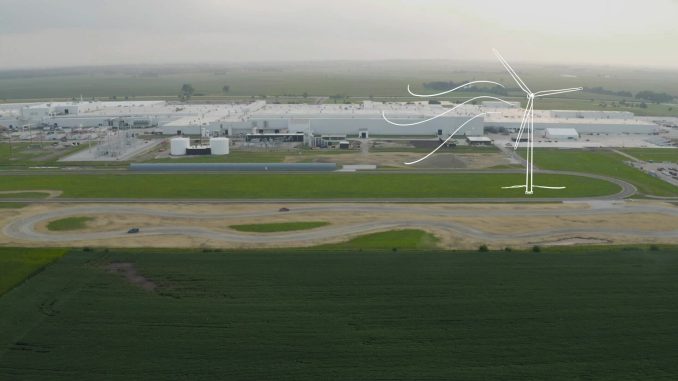 All new R1 electric vehicles rolling off the production line at Rivian's factory in Normal, Illinois will soon get their first charge from a large wind turbine.
The project is another step in the automaker's journey in reducing its carbon footprint, adding to their 738kW solar canopy that is scheduled to go online later this summer.
"To us, our job isn't done when our vehicles come off the line. While we're working hard to help electrify transportation, we're also pushing to accelerate the shift to carbon-free electricity for all. This wind turbine is an early step on that path, and it's also a beacon of our vision for a clean energy future," said Andrew Peterman, Rivian Director of Renewable Energy.
According to the company, the wind turbine will have a capacity of least 2.8 megawatts and be able to generate nearly 10 million kilowatt-hours (kWh) of electricty every year. That is enough to power 890 average homes in the US.
Rivian estimates the wind turbine will avoid 177,000 tons of carbon dioxide emissions over its 25-year life expectancy, or the equivalent of taking 34,000 internal combustion engine (ICE) vehicle off the road for one year.
Plans say the wind turbine will be located inside the test track on the east side of the facility, and be less than 510 feet tall with white, non-reflective blades.
Those plans were included in their permit application to the Town of Normal earlier this month. Rivian is expecting the application to be considered this summer.
RJ Scaringe gives behind-the-scenes look at Rivian's factory in Normal, Illinois