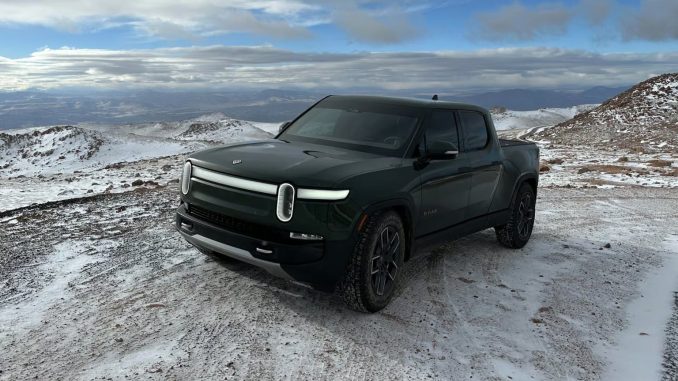 For the first time an electric pickup truck will be tackling the Pikes Peak International Hill Climb. According to the list of cars and drivers for this year's event, Gardner Nichols will be piloting a Rivian R1T along the legendary course that involves 156 uphill turns and an elevation gain of over 5,000 feet.
Nichols is no stranger behind the wheel of the R1T, or any Rivian vehicle for that matter, as he is the automaker's Senior Performance Test Engineer. Nichols is scheduled to participate in the exhibition class of the race, alongside fellow competitors that will be driving everything from a 2018 Ferrari 488 GT3 to a Mazda 3, and even a 1949 Ford F1.
Nichols won't be the only EV in the competition however as Randy Pobst is returning once again in a 2021 Tesla Model S Plaid. If you are unfamiliar with Pobst he has had an interesting history at Pikes Peak, crashing his Unplugged Performance Model 3 in spectacular fashion in 2020. The only other EV in the field is a 2021 Nissan Leaf, which will be driven by Takashi Oi.
What makes the Pikes Peak Hill Climb such an interesting competition is because of the elevation the cars must endure. While the elevation gain of over 5,000ft by itself is a lot, that 5,000ft will put drivers and cars at over 14,000ft above sea level, an elevation where there is significantly less oxygen than at the start of the course. Less oxygen means those with internal combustion engines (ICE) will see their performance suffer as the cars climb the hill.
Meanwhile EVs suffer no ill-effect from a lack of oxygen so drivers can expect the same level of performance at the beginning of the course as when they cross the finish line 19.98km (12.42 miles) later.
The R1T with its more than 830 horsepower should be able to post an impressive time, especially for a pickup truck. The 2023 Pikes Peak International Hill Climb will take place on Sunday, June 25, 2023.
Here is the full list of participants. (h/t: Rivian Owners Forum)
2023-PPIHC-Competitor-List