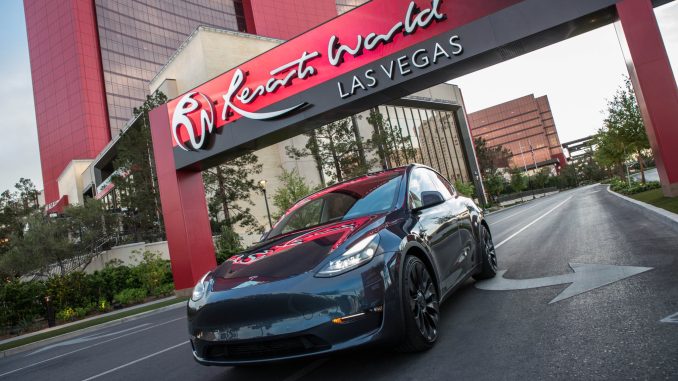 The next time you visit Las Vegas you might want to book a stay at Resorts World Las Vegas (RWLV). The hotel has partnered with EVolve Rentals to bring the first 100% carbon neutral car rental service to the Strip with a fleet of Teslas.
Guests at RWLV can now rent any of the four Tesla models, and even upgrade their rental to include Full Self-Driving (FSD), although this doesn't appear to be FSD Beta.
Not only do you get to drive a Tesla during your stay, a tree will be planted with the Eden Reforestation Project with every rental through their "Rent One, Plant One" guarantee.
"Giving visitors the opportunity to conveniently rent a Tesla is a great way to enhance their rental experience and add to our overall efforts to provid e guests with sustainable options across the resort," said Scott Sibella, President of Resorts World Las Vegas in a statement.
There will soon be another Elon Musk connection with RWLV.
The Boring Company is set to open the first station of their expanded Vegas Loop at the hotel very soon. The tunnel was hoped to have been completed this week in time for the National Association of Broadcasters convention, but they were unable to meet that deadline.
The rates for each Tesla model rental at Resorts World Las Vegas are as follows:
Model 3 Long Range – $195/day
Model 3 Performance – $245/day
Model Y Long Range – $249/day
Model Y Performance – $299/day
Model S Long Range – $299/day
Model S Performance – $399/day
Model X Dual Motor – $349/day
Model X Performance $449/day