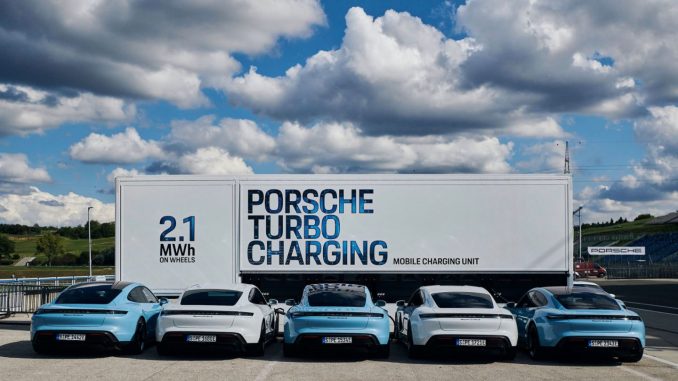 When you purchase a car from a premium automotive brand like Porsche, it often comes with a number of benefits like track days or driver training programs exclusive to the German automaker.
Now that one of Porsche's highest performing vehicles, the Taycan, is all-electric, they were presented with a problem they hadn't faced before – how to charge the electric vehicle (EV) at these "Porsche Experience" events.
Not all tracks and locations used by Porsche are equipped with the necessary infrastructure to charge a large number of EVs, let alone up to 10 at the same time. To overcome the problem, Porsche has developed a high-powered charging truck that can act as a mobile EV charging station.
Equipped with 10 chargers and a power rating of 3.2 megawatts, up to 10 Taycans can be charged simultaneously without any degradation in charging speed. The power capacity gives enough juice for up to 30 full charges, and when the truck is fully depleted, it can be recharged within four hours.
According to Ragnar Schulte, Director Experiential Marketing at Porsche, the trucks have been extensively tested since November 2019, and have so far presented no issues.
"We have now used the trucks at numerous events all over Europe and have carried out around 5,000 charging operations – sometimes at extreme temperatures down to minus 40 degrees. Their performance has therefore been tried and tested."
To create the mobile charging units, Porsche partnered with another German company "ads-tec", which produced seven of the Porsche Turbo Charging trucks.
The trucks are similar to the mobile Superchargers used by Tesla, usually at high-traffic Supercharger stations. The trucks are equipped with Urban Superchargers hooked up to a Tesla Megapack, and can recharge up to 100 cars.
Tesla's first self contained mobile Megapack supercharger!! 8 charging stations capable of up to 125kW of dedicated power!! Great job @tesla @elonmusk pic.twitter.com/v8nOnH7Nta

— Tesla Owners Central Coast (@ccteslaclub) November 27, 2019
Source: Porsche