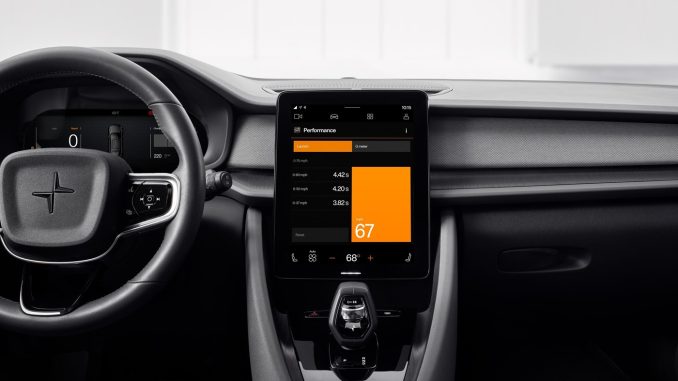 Polestar announced this morning that it will be offering owners of the Polestar 2 long range dual motor variant a paid over-the-air (OTA) update that increases the performance of their electric sedans.
According to Polestar the update will increase the EVs power output by 68 horsepower to a total of 476 horsepower (350kW), and also raise torque by 15 lb-ft to 502 lb-ft.
This update won't be free, and unlike Mercedes-Benz which recently opted for an annual subscription for their performance update, Polestar owners will pay a one-time cost of $1,595 CAD or $1,195 USD for the increase performance.
After installing the update, without the need for a service visit, owners can expect to see "increased responsiveness and a sportier experience overall." Polestar says 0-100km/h time will be reduced to 4.42 seconds, down from the original 4.7 seconds.
As well the increased torque can be felt mainly between speeds of 70km/h and 130km/h (44mph and 80mph), resulting in "rapid mid-range acceleration."
The OTA performance update is a first for the Swedish automaker, and is available online for eligible owners now in the Polestar Shop.
"This upgrade highlights how connected technologies can transform the relationship a car company has with its customers. The driving experience in Polestar 2 is something we are really proud of. It is such a fun car to drive already, but with this upgrade we can offer even more to our customers who might be after a little extra excitement," said Thomas Ingenlath, CEO of Polestar.
If any of our readers are Polestar 2 owners, will you be buying the upgrade? Let us know in the comments below.
Polestar reports solid earnings for Q3; cuts operating loss by 33 percent