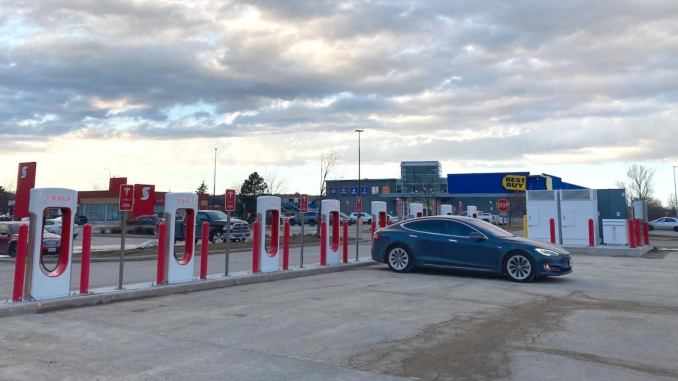 Despite snow, ice, and pandemic restrictions Tesla has opened their latest Supercharger today in Orangeville, Ontario.
Located at the Riocan Fairgrounds Super Centre at 95 First Street, the new Supercharger first began construction in December last year. Crews have been hard at work testing the site over the last week, and indications were the site could open in a week or two.
More work going on at the Orangeville Tesla Supercharger. Should be open soon! https://t.co/UWBIZmVWdM

— Drive Tesla 🇨🇦 #FSDBetaCanada (@DriveTeslaca) March 8, 2021
Today Tesla Owners Ontario confirmed the switch has been flipped and the 8-stall V3 Supercharger is now online.
Orangeville SC finally open! 👏 pic.twitter.com/5ZqkpUuz0s

— Tesla Owners Ontario (@TeslaOwnersONT) March 12, 2021
This is the third Ontario Supercharger to open in 2021. In January the new Superchargers at both Bancroft and Collingwood were turned on.