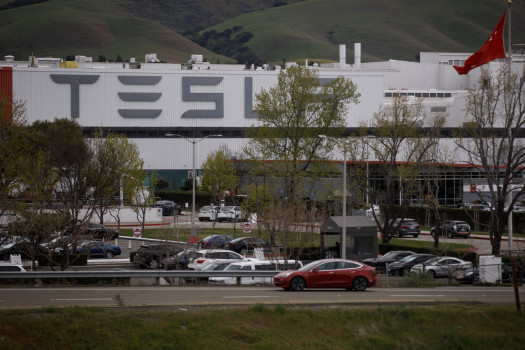 Elon Musk has invited the United Auto Workers labour union to hold a vote at Tesla's Fremont factory via a Twitter exchange.
The invitation comes after Musk engaged with a tweet from President Biden during the State of the Union.
Musk replied to the official Joe Biden account. He tweeted that Tesla created over 50,000 jobs in the EV space compared to Ford, which produced 11,000 and GM with 4,000 jobs.
Tesla has created over 50,000 US jobs building electric vehicles & is investing more than double GM + Ford combined

[fyi to person controlling this twitter]

— Elon Musk (@elonmusk) March 2, 2022
However, a quote tweet from an unlikely source created the invitation.
Kiss bassist and singer Gene Simmons quote tweeted Musk and noted that Biden's Tesla snub may have been "because Tesla is non-union and moved to Texas, a 'right to work state."
You can check out Elon Musk's reply down below
Actually, we still operate our California factory, which is the largest auto plant in North America, at full capacity and are considering expanding it significantly.

It has built 2/3 of all electric vehicles in North America, twice as much as all other carmakers combined.

— Elon Musk (@elonmusk) March 3, 2022
Our real challenge is Bay Area has negative unemployment, so if we don't treat and compensate our (awesome) people well, they have many other offers and will just leave!

I'd like hereby to invite UAW to hold a union vote at their convenience. Tesla will do nothing to stop them.

— Elon Musk (@elonmusk) March 3, 2022
This is an interesting turn for Musk, who has previously been found guilty of sabotaging union efforts in California back in 2018.
Last month, National Labor Relations Board ordered Musk to delete tweets that constituted threats to unionizing workers. Tesla is currently appealing the order from the board.
It will be interesting to track if the United Auto Workers union takes Musk up on the offer to hold a vote, and if they do, if it would be successful.