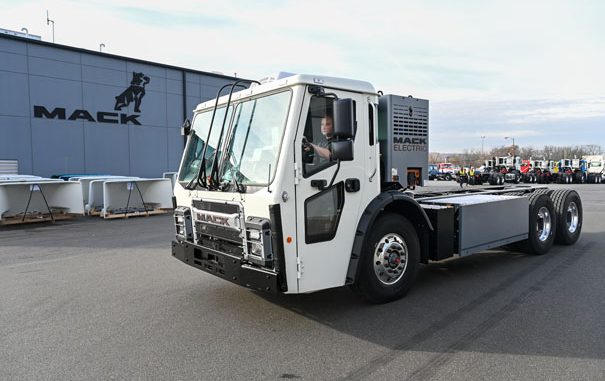 Mack announced that the Mack LR Electric truck is now in serial production at the company's Lehigh Valley Operations facility.
The LR Electric is Mack's first fully electric Class 8 vehicle.
The LR Electric truck comes with four Nickel Manganese Cobalt Oxide lithium-ion batteries. In addition, the vehicle comes with a three-mode regenerative braking system to help recapture energy over the workday.
Mack designed the LR Electric Truck to be customized for their clients. The truck aims to feature the same industry-leading ergonomics and visibility as the diesel-powered LR model. Mack offers the same driver/passenger side driver configurations, seating, and door options in both models.
The LR Electric also comes standard with the Mack Ultra Service Agreement. This agreement includes preventive and scheduled maintenance, towing and repair, a battery warrant and monitoring via Mack connected services.
Mack announced plans to launch the LR Electric model back in 2018. In September 2020, Mack sent the first demonstration vehicle to the New York City Department of Sanitation.
Then in October 2022, Mack sent a second demonstration LR Electric to Republic Services in Hickory, North Carolina.
In addition, the New York City Department of Sanitation ordered an additional seven LR Electric models that will operate throughout the five boroughs of New York City.