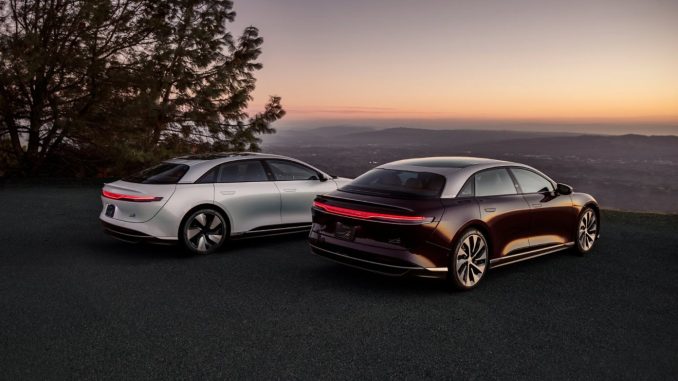 Lucid Group has announced this morning they have started deliveries of their next variant, the Air Grand Touring.
Along with the start of deliveries, they have also introduced a Grand Touring Performance variant with more power and faster acceleration.
The stats for the Grand Touring Performance are impressive, with 1,050 horsepower and a 0-60mph time of 2.6 seconds.
That's 231 more horsepower than the regular trim, and just 61 horsepower less than the Dream Edition Performance.
With the increased power comes a slightly lower (but still more than adequate) range of 446 miles (717km) on a full charge when equipped with the standard 21″ wheels.
The extra power and faster acceleration come at a price though – $179,000 USD, $40,000 more than the starting price of the Grand Touring spec.
No Canadian pricing was announced, but we have reached out to Lucid for comment and will update this article when we receive a response.
Customers won't have to wait long to get their hands on the Grand Touring Performance as it will enter production later this spring.
Deliveries of the new variant will start in June 2022 in the United States, and August 2022 in Canada.
Get there, grandly. Now delivering Lucid Air Grand Touring and introducing the new 1,050-hp Grand Touring Performance.https://t.co/pIiwBII0PW pic.twitter.com/Fxf28hblRd

— Lucid Motors (@LucidMotors) April 12, 2022