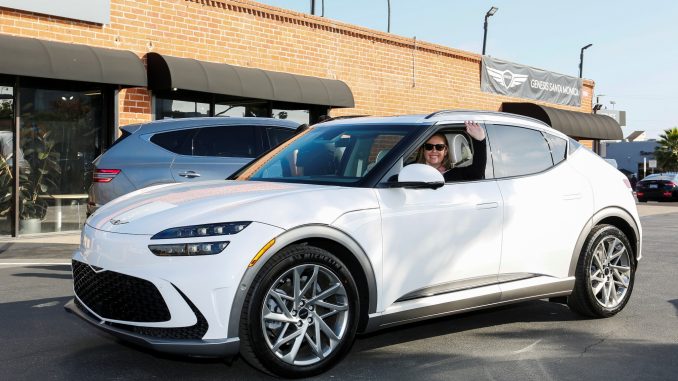 Genesis announced today it has delivered its first all-electric vehicle, the GV60, to a customer in the United States.
The lucky new owner is Patricia Wayne, who actually took delivery of her white GV60 last Thursday, May 26 in Santa Monica, California. Wayne said she has been following the progress of the GV60 for over one year and placed her order because she wanted to be part of the next generation of luxury EVs.
"GV60's design is simply breathtaking and you can't beat its curb appeal. I wanted to be part of the next generation of luxury EVs. I like to think that the GV60 has evolved the basic function of electric cars into a new kind of sustainable luxury," said Wayne.
Earlier this month the automaker, which operates as Hyundai's luxury brand, announced the official start of sales of their first EV.
The GV60 comes in two different trim options, starting as $71,000 CAD ($58,980 USD) for the Advanced Trim which provides 399km (248 miles) of range on a full charge.
There is also the Performance Trim which is All-Wheel Drive (AWD) and offers 378km (234 miles) and starts at $79,000 CAD ($67,980 USD).
New owners will be able to enjoy what Genesis calls "world-first automotive technologies," including the ability to unlock your car with facial recognition, known as Face Connect.
After taking delivery, Wayne said her first road trip would be over the Memorial Day weekend, travelling up the Pacific Coast Highway to Sequoia National Park.