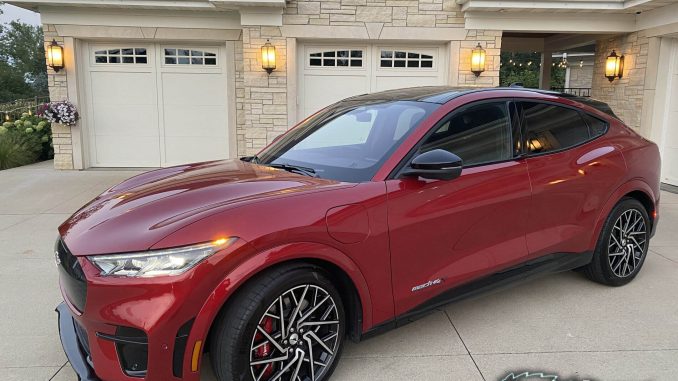 While the automotive world is suffering through a chip shortage that has resulted in Ford delaying Mach-E deliveries by six weeks, they have been able to begin deliveries of the Mustang Mach-E GT Performance Edition ahead of schedule.
The first reported delivery took place late yesterday, August 19 2021, in Cedar Rapids, Iowa. According to the lucky new owner, who shared his delivery experience on Macheforum.com, the car arrived a full two weeks earlier than estimated and caught him a little off guard.
"[I] took delivery late afternoon, departed dealership at 5:45pm, was late for a business dinner, then home, took wife for a spin, back home and took a couple snapshots, posted on this forum, got charging, and went to bed. Hardly time for more, but know for sure people are eager to see and hear more, so will dabble a little today (have work to do) but do more this weekend. Look for more soon! I would add that delivery estimate week was 8/29-9/4, so delivery on 8/19 was completely unexpectedly early, so was unprepared!
After having some more time with the car, the new owner shared a number of pictures of the interior and exterior. The front seats definitely stand out with their unusual design, one that disappointed a number of fans because of the fixed headrest on both the driver and front passenger seats.
The Mach-E GT Performance Edition features dual electric motors delivering 480 horsepower and 634 lb-ft. of torque. That's enough to give it an impressive 0-60 mph time of 3.5 seconds.
All of that performance comes with 235 miles (378km) of range on a single charge, slightly less than the 250 miles (402km) on the lower trim Mach-E GT.
The Mach-E GT Performance Edition is coming to Canada, and starts at $82,995 CAD (or $64,900 USD). Deliveries are slated to begin north of the border later this fall, but with this early delivery, we may be seeing them sooner rather than later.
Here are some more pictures of the Mach-E GT Performance Edition.