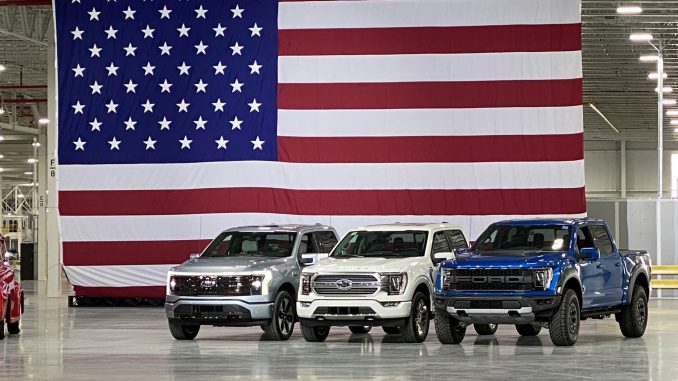 Ford revealed its highly anticipated electric F-150 Lightning pickup truck at President Joe Biden's press conference today, one day before its official unveiling. President Biden also got to drive a prototype of the EV, accidentally releasing one of the electric truck's key performance metrics.
A lineup of three pickup trucks stood behind Biden during his visit to Ford's Rouge Electric Vehicle Center in Dearborn, Michigan. Sitting on the far left, the F-150 Lightning might have been difficult to spot if it were not for the unique headlight design that was previewed last week.
And there it is. The electric @Ford F-150 Lightning ahead of comments by @POTUS. pic.twitter.com/IF0baIT55w

— Michael Wayland (@MikeWayland) May 18, 2021
The Lightning appeared to be almost identical in size to the gas-powered F-150 sitting next to it, and slightly smaller than that F-150 Raptor at the end of the line.
While the automaker didn't reveal any further details about the truck, wanting to keep them a secret until the official unveiling tomorrow night, Biden apparently didn't get the memo.
After taking a camouflaged F-150 Lightning for a drive, he accidentally revealed it has a 0-60mph time of either 4.3 or 4.4 seconds, before being told by a Ford employee that the numbers hadn't been released yet.
How does it feel to drive one of these vehicles? Biden says "it feels great". "I'll tell you what, these electric vehicles, now I don't know if anyone has a stop watch but these
vehicles can go from 0 to 60 in…4.4 seconds" pic.twitter.com/enPJt5PUsc

— Nandita Bose (@nanditab1) May 18, 2021
CSPAN also shared a video of the electric truck's acceleration with Biden behind the wheel.
President Biden test drives F-150 Lightning: "This sucker's quick!" pic.twitter.com/BoVG04Ro9M

— CSPAN (@cspan) May 18, 2021
We will get the official numbers from Ford during a livestream event tomorrow, May 19th at 9:30pm EST (6:30pm PST). You can watch it on YouTube at this link.