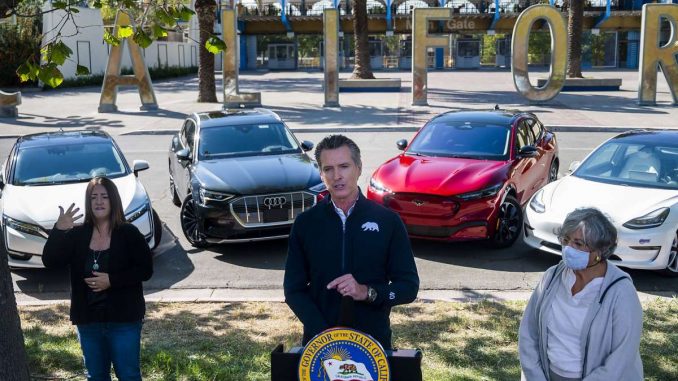 One of the states most impacted by climate change with recent wildfires that have left cities enveloped in smoke will ban the sale of new gas cars by the year 2035.
California Governor Gavin Newsom on Wednesday signed an executive order that will require all cars sold in the state to zero emission in 15 years. The order encompasses battery electric vehicles and hydrogen fuel cell vehicles.
"This is the most impactful step our state can take to fight climate change. Our cars shouldn't make wildfires worse — and create more days filled with smoky air. Cars shouldn't melt glaciers or raise sea levels threatening our cherished beaches and coastlines," said Newsom in a statement.
The order also includes provisions still to be determined for phased-in targets, with an increasing number of zero-emission vehicles sold in the state up to 2035.
Transportation is the state's biggest source of emissions, accounting for 28% of all greenhouse gas emissions in California. The number of zero-emission electric vehicles being sold in the state, especially Tesla's, has risen substantially in recent years, but still only accounts for fewer than 8% of all new cars sold in California last year.
Newsom's order is similar to the Government of Canada's federal targets for zero-emission vehicles reaching 10% of new light-duty vehicles (LDV) sales per year by 2025, 30% by 2030 and 100% by 2040. Individual provinces have similar targets, like British Columbia which recently introduced new rules forcing automakers to meet new phased in year-by-year EV sales targets.