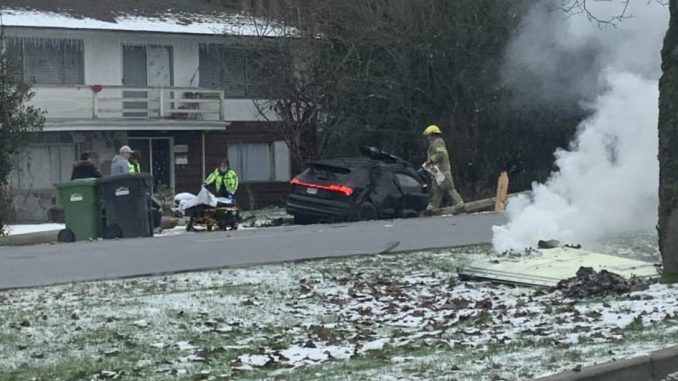 A violent high-speed crash in Richmond, British Columbia between an Audi e-tron and a Toyota sedan resulted in the battery pack of the e-tron being ejected from the vehicle. The force of the collision sent the battery pack sliding down the road, before it caught fire on the median where it came to rest.
The accident occurred on Tuesday afternoon in Richmond, and it was all captured on dashcam. The video, shared widely on social media, shows the e-tron travelling at a high rate of speed as it enters an intersection on a red light. Unfortunately a Toyota sedan was proceeding through the intersection on a green light at the same time, resulting in a massive collision which sent the e-tron airborne, taking out several trees and a large utility pole in the process.
Moments after impact the battery pack can be seen flying through the air, sliding along the road before coming to rest on the center median, where it subsequently caught fire. Photos and videos from passersby show flames visible from the battery pack, and later still smoking after firefighters attended the scene. Fortunately the battery pack went towards the middle of the road, and not towards the sidewalk where pedestrians could have been struck.
The 49-year old driver of the Toyota was taken to hospital with non-life threatening injuries, while the 31-year old driver of the Audi was not seriously injured, according to a statement by Richmond RCMP.
Audi has not commented on the crash, but we have reached to them for more information and to see if they are aware of any other accidents in which the battery pack was ejected from the vehicle like this.
An interesting side note to this accident is how it is being covered by mainstream media, which shows their inherent bias against Tesla. A review of headlines reveals none of the coverage so far mention Audi by name, and instead use the word "EV" to reference the battery pack being ejected from the car. Although we can never be certain, we are pretty sure that if a Tesla was involved that would be included in all of the headlines.