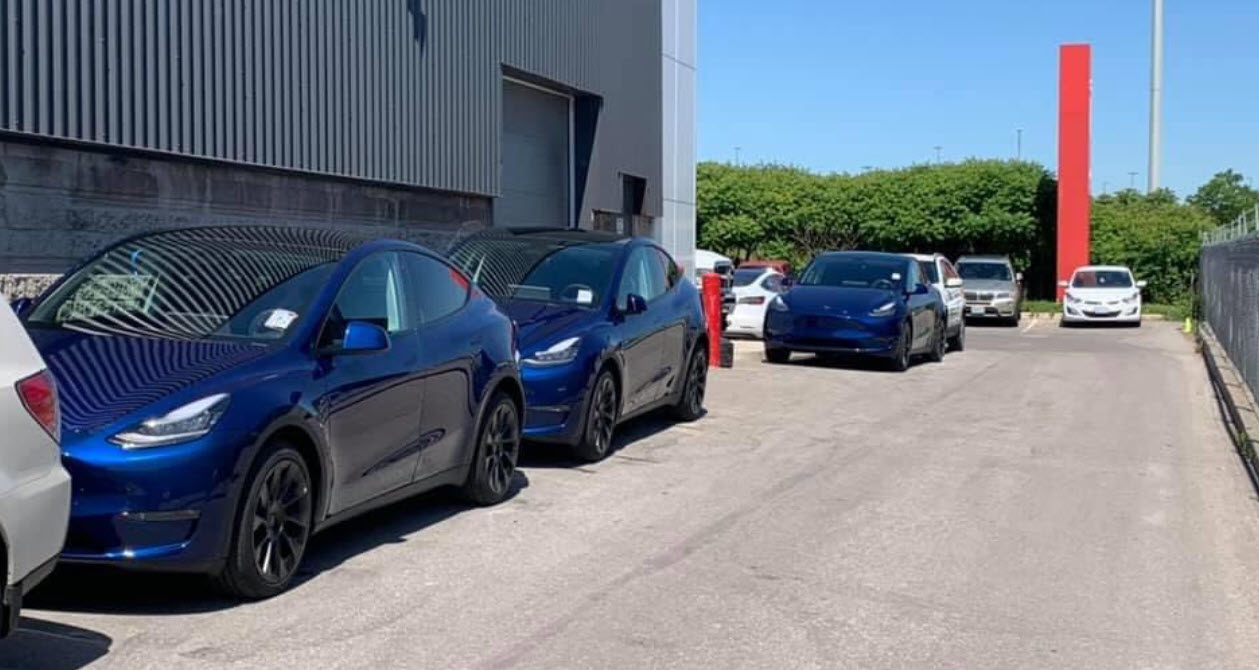 If you follow us on Twitter, we told you yesterday that the first batch of Tesla Model Y's were on their way to Ontario after being spotted by a keen eyed Drive Tesla reader, Simon Wong.
Heads up Ontario, #ModelY's inbound! https://t.co/U0zoKH5KTM

— Drive Tesla 🇨🇦 (@DriveTeslaca) June 16, 2020
Now even more than that initial truck load has officially arrived, with multiple readers reaching out to Drive Tesla to share pictures and videos of some stunning metallic blue and midnight silver Model Y's, as well as multiple truck loads arriving in the region.
@DriveTeslaca Yes! The Y is in Oakville Canada 🇨🇦 pic.twitter.com/GxNyHMQ53U

— Josh West 👻 (@JoshWest247) June 17, 2020
Here are some Model Y's at #Tesla Oakville. Deliveries soon! Hands up who's excited? ✋✋ https://t.co/cMbNhpOBz9

— Drive Tesla 🇨🇦 (@DriveTeslaca) June 17, 2020
Midnight Silver #ModelY too at Oakville https://t.co/zy0azvzTAq

— Drive Tesla 🇨🇦 (@DriveTeslaca) June 17, 2020
Another view #datass https://t.co/E4u9tdJ0Fw

— Drive Tesla 🇨🇦 (@DriveTeslaca) June 17, 2020
@DriveTeslaca @Tesla the Model Y had landed in the GTA. They look so good In person #tesla #ModelY #TeslaModelY pic.twitter.com/998woy8GQJ

— Angelo (@angeloxnet) June 17, 2020
EXCLUSIVE Tesla Model Y arrives in Toronto! 🇨🇦 Thank you again @elonmusk #tesla #modelY https://t.co/gfIR9Uyt5Z via @YouTube

— Gary 🇨🇦 (@akidesir) June 17, 2020
#tesla #toronto #modely Model Y is here pic.twitter.com/tCertWndX6

— Umair Hossain (@Umair__H) June 17, 2020
The three Model Y's pictured up close here all have Vehicle Identification Numbers (VINs) in the 11XXX range, as seen in this picture shared with Drive Tesla. If you already have your VIN, one of these could be yours! One of the Model Y's shows a manufacturing date of just two weeks ago, June 3, 2020.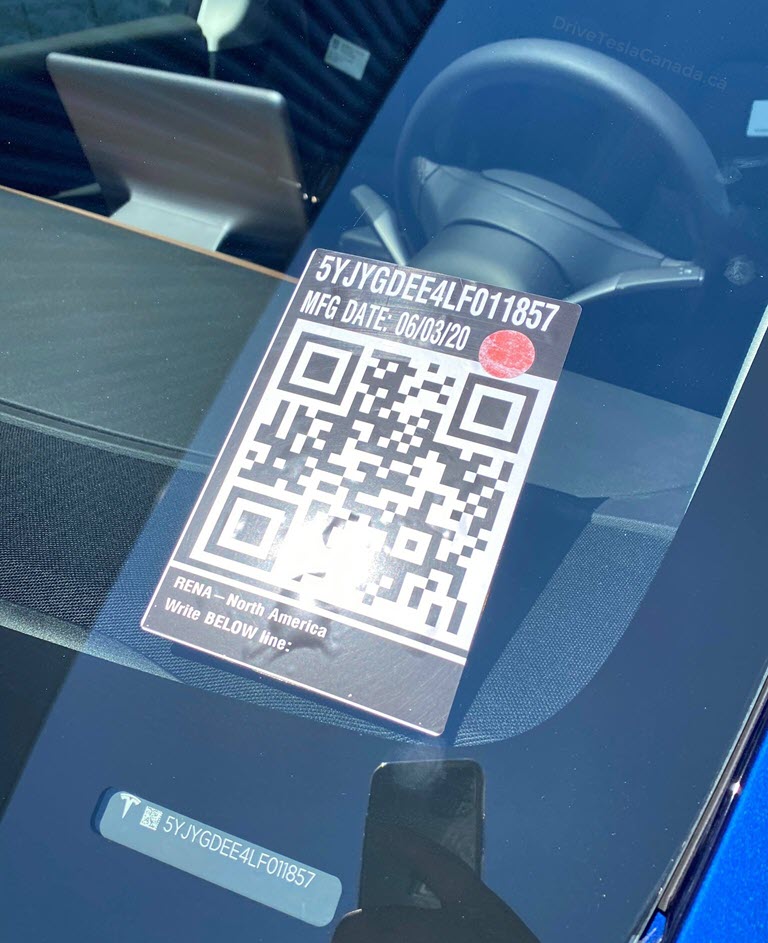 We learnt earlier this week of one of the first scheduled deliveries of a Model Y at the Oakville location. Set to happen on June 27, it is for a Long Range Model Y. Since Tesla usually gives priority to the higher priced Performance version, we may see a delivery at Oakville this weekend, or early next week.
The first official delivery of a Model Y in Canada happened last week in Vancouver. More deliveries are scheduled for this week in Vancouver as Tesla tries to get as many vehicles out for an end of Q2 push.
If you spot any Model Y's out in the wild in Canada, be sure to tag us on Twitter, or email them to us so we can share them with our readers.