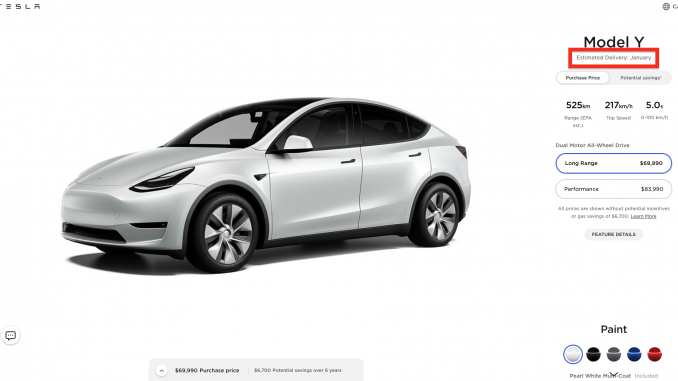 Tesla has updated their website to indicate they have sold out their Long Range (LR) Model Y production capacity for the remainder of 2021.
Customers placing new orders today in both Canada and the US are now going to have to wait over four months. According to the Design Studio the earliest estimated delivery date is now in January 2022 (h/t: @tesla_adri).
Just two weeks ago, Tesla began estimating a December 2021 delivery timeframe for new orders. If you want a Model Y quickly, you will either have to find one used or be prepared to pay extra for the Performance variant, which you can have in driveway in 5-7 weeks.
The change comes just as we predicted yesterday, when delivery timelines for the Standard Range Plus (SR+) Model 3 also slipped into 2022.
Ever increasing demand for the electric SUV, paired with component supply chain issues, means that until Tesla's new factory in Austin, Texas comes online later this year and ramps up production into 2022, long delivery wait times are likely to be the norm over the next year.