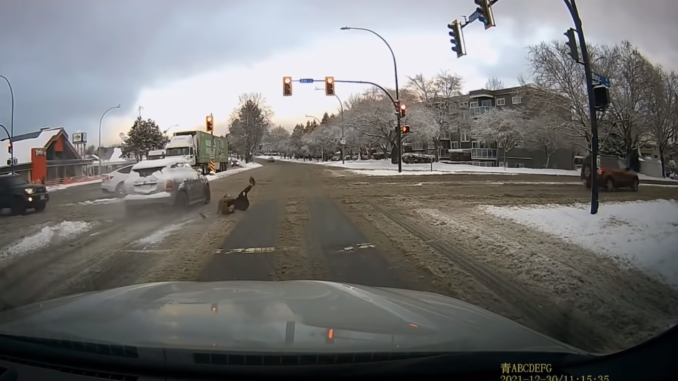 The Victoria Police Department is requesting assistance from a Tesla Model Y driver who may have footage of a hit and run accident that occurred this morning that sent a pedestrian to hospital.
At around 9:00am on December 30, a female pedestrian was attempting to cross Blanshard at Bay Street.
Upon proceeding into the intersection with the light, she was struck by a MINI Countryman.
The woman was transported to hospital with non-life-threatening injuries after being helped by bystanders.
The driver of the vehicle did not stop, proceeding through the intersection and almost colliding with a white Tesla Model Y.
Police would like to speak with that driver as their TeslaCam footage may have additional views of the vehicle involved, which was heavily covered in snow.
Victoria Police are requesting the driver, or anyone else that may have footage or more information about the incident to contact the VicPD Reports Desk at (250) 995-7654, extension 1. If you would prefer to stay anonymous you can call Greater Victoria Crime Stoppers at 1-800-222-8477.
Dashcam footage of the accident is included below, which is graphic in nature. Viewer discretion is advised.