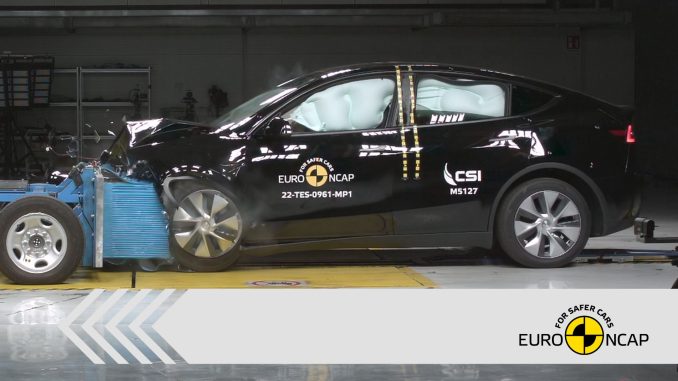 The results are in from European New Car Assessment Programme (Euro NCAP) and the made-in-Germany Tesla Model Y has cemented its status as one of the safest cars on the roads with a perfect 5-star safety rating.
Not only was it a 5-star rating, it was also the highest score of any vehicle the organization has ever tested.
The Model Y received the highest overall score based on the vehicle's ability to protect adult and child occupants, vulnerable road users, and for its safety assist features.
When it comes to protecting adult occupants, the Model Y achieved a near perfect score of 97%.
That wasn't even the highest score as the electric SUV also scored 98% for its Safety Assist features. This is a particularly important metric considering the Model Y that was tested had Tesla Vision, which uses the vehicle's cameras and not radar for its safety features.
"The Model Y, built in Tesla's Berlin Gigafactory, scores an impressive 97 percent in Adult Occupant Protection and near-perfect 98 percent in Safety Assist, with full points for its lane support and new cabin camera based driver monitoring system. In Euro NCAP track tests, the Model Y camera-only Vision system performs remarkably well in preventing collisions with other cars, cyclists and pedestrians," Euro NCAP said.
The Model Y also scored highly in Child Occupant Protection and Vulnerable Road Users Protection, achieving scores of 87% and 82% respectively.
"The Model Y provided good protection to both child dummies in both the frontal offset and side barrier tests, scoring maximum points for this part of the assessment."
Euro NCAP's Secretary General Michiel van Ratingen congratulated Tesla for their "record-breaking Model Y rating.
Congratulations to Tesla for a truly outstanding, record-breaking Model Y rating.  Tesla have shown that nothing but the best is good enough for them, and we hope to see them continue to aspire to that goal in the future, van Ratingen said.
Tesla also commented on the results, saying on their blog that even with the highest score ever they will strive to make their cars even safer.
"Our team is dedicated to improving driving safety. Achieving some of the highest safety scores ever awarded doesn't give us pause—it motivates us to make some of the world's safest vehicles even safer."
The results from the Euro NCAP testing were also used by Australasian New Car Assessment Program (ANCAP), which also announced the Model Y's 5-star rating today.
You can read the full results of the Euro NCAP testing, as well as see footage from the testing below.
622555