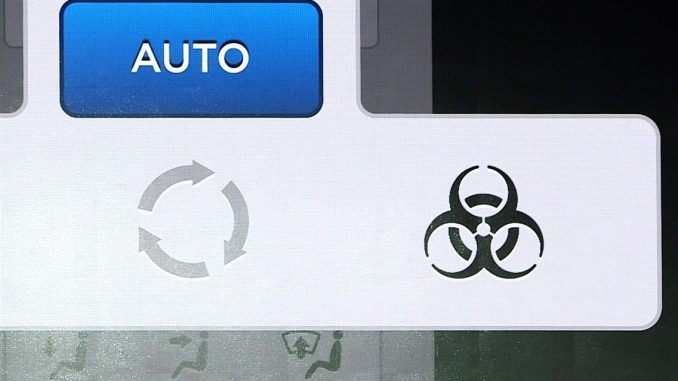 Tesla is bringing HEPA filters, first installed on their flagship sedan and SUV that enables Bioweapon Defense Mode, to the more affordable Model Y.
The automaker first introduced the massive HEPA filters into the Model S and Model X in 2016 as part of an optional upgrade. Later in July of 2018 Tesla made the feature standard for both vehicles.
When the Model 3 was released in 2018, many were hoping to see the feature make its way to the smaller electric sedan. When asked about why it didn't, CEO Elon Musk said the filters, which are about 10 times larger than a typical air filter on a car, were too large to fit in the Model 3.
Now that the larger Model Y is out, we have learned today Tesla will soon be bringing the HEPA filters and Bioweapon Defense Mode to the electric SUV.
Tesla hacker @greentheonly discovered the change in the source code of a recent software release, along with a couple of other upgrades coming in the future. He also discovered more changes coming to the Model 3, which we covered here.
ModelY gets the 3rd row "flat fold". It also got HEPA filter and corresponding biohazard mode – this apparently is not planned for model3 at this time. Standard/Adaptive air suspension made reappearance on 3/Y so it's also certainly in the works.

— green (@greentheonly) October 22, 2020
Here's how Tesla describes the filters and feature on their website.
Inspired by the air filtration systems used in hospitals, clean rooms, and the space industry, we developed a HEPA filtration system capable of stripping the outside air of pollen, bacteria, and pollution before they enter the cabin and systematically scrubbing the air inside the cabin to eliminate any trace of these particles.
In a test performed in 2016, a Model X was placed in a large bubble contaminated with extreme levels of pollution (1,000 µg/m3 of PM2.5 vs. the EPA's "good" air quality index limit of 12 µg/m3).
In less than two minutes with Bioweapon Defense Mode activated, the HEPA filtration system had cleaned the air in Model X, bringing pollution levels from an extremely dangerous 1,000 µg/m3 to levels so low as to be undetectable. The air was so clean inside the vehicle the testers were able to remove their gas masks and breathe fresh air while "sitting inside a bubble of pollution."
There was no indication in the source code of when these changes will show up in production, but green suspects they will happen fairly soon.