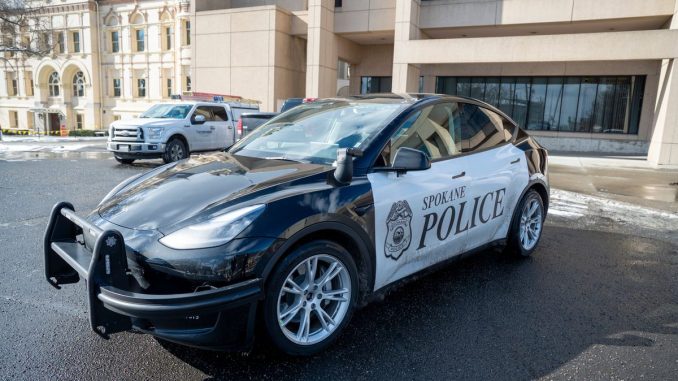 The Spokane Police Department in Washington State has previously announced plans to purchase 4 Tesla Model Ys for use as police cruisers.
After trialing two for the past year, it looks like the city may not buy the others as officers don't think it makes for a suitable police car.
According to Spokane Police Department leaders, the electric SUV is simply too small to comfortably accommodate a police officer.
"They're not a suitable police car. They are too small. They are not designed for police work," Maj. Michael McNab told the Spokane City Council's Public Safety and Community Health Committee earlier this month. (via The Spokesman Review)
In a survey conducted late last year, officers rated the Model Y as low in comfort, reliability, storage, and safety.
Whether the city will purchase more Model Ys remains to be seen. The police department doesn't want to purchase Tesla as they are set to replace 64 internal combustion engine (ICE) cruisers this year, preferring to stick with Ford K8 hybrid SUVs.
"For this 64-vehicle purchase, there isn't a suitable electric vehicle solution, and if we were to buy any one of these alternatives we would just be experimenting with electric cars on a grander scale than we are with the two Teslas," McNab said.
On the other side of the equation is Spokane City Council, which insists the department switch to electric as part of city and state law to do so whenever feasible.
"The challenge is they keep looking for reasons to say no instead of how to accomplish" using electric vehicles, President Breean Beggs said. "That's my frustration with the department."
The Spokane Police Department seems to sit alone in their criticism of the Model Ys suitability for a police cruiser.
Numerous departments across the US have added one or more to their fleet, and have had nothing but praise for the electric SUV, especially when it comes to the financial savings they offer.
Sykesville Police Department adds Tesla Model Y and expects it to last twice as long as an ICE cruiser, resulting in big savings