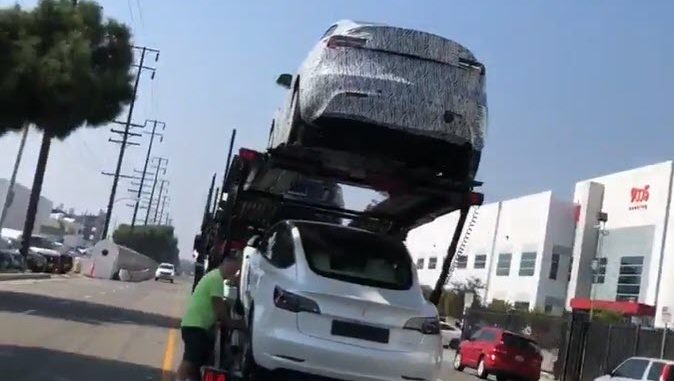 Even though the Model Y has been out for more than 6 months now, a completely camouflaged version of the electric SUV was spotted today in California.
Save with big discounts at your favourite Tesla accessories stores, like 10% off at Tesmanian, TesBros and Nikola Pro, plus many more. Coupon codes at DriveTeslaCanada.ca/deals.
The vehicle was seen being loaded on the back of a car carrier at the automaker's Design Center in Hawthorne, California by Taylor (@teslaphotografr). Based on the other vehicles on the truck with the longer license plate holders, it appears this is a non-North American version.
Just spotted this being dropped off at Tesla Design Studio. Look at the front 🤩 #tesla #model3 #modely @tesla pic.twitter.com/wauzE7atwp

— Tesla Photographer (Taylor) 🎃 (@teslaphotografr) October 20, 2020
There are a few reasons why this sighting is interesting. The first is what we mentioned above, the Model Y is already released, so why camouflage this unit?
Get 10% off at Tesloid.ca or Tesloid.com with coupon code DTC10 at checkout. Quality Tesla accessories with FREE shipping across Canada and the US.
Another is that Tesla does not typically use camouflage to hide the design of their vehicles. The most recent example of it being used was in China earlier this year. That sighting was also of a Model Y, later confirmed to be one of the first to be built at Giga Shanghai. This doesn't appear to be the same vehicle as the camo wrap on the left front door isn't aligned the same way.

The next theory is Tesla could be hiding a new colour for the electric SUV that will first be unveiled when it arrives in Europe.
They could also be trying to protect a new set of sensors for Full Self-Driving (FSD), though this scenario seems unlikely.
What do you think Tesla is trying to hide with this Model Y? Let us know in the comments below.