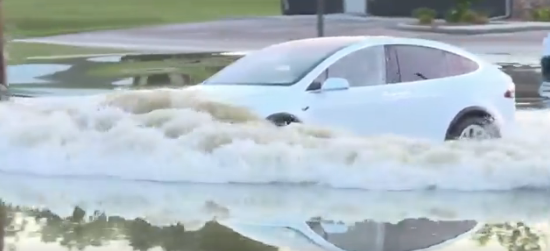 Back in 2016, Tesla CEO Elon Musk sent out this tweet, stating that the Model S can actually make a half-decent boat if necessary, although not recommended.
Save with big discounts at your favourite Tesla accessories stores, like 10% off at Tesmanian, TesBros and Nikola Pro, plus many more. Coupon codes at DriveTeslaCanada.ca/deals.
We *def* don't recommended this, but Model S floats well enough to turn it into a boat for short periods of time. Thrust via wheel rotation.

— Elon Musk (@elonmusk) June 19, 2016
Now video has surfaced (pardon the pun) of a Tesla Model X driving through a flooded street with ease. It was caught on camera during a news broadcast for KSFY-TV in Sioux Falls, South Dakota.
Doth mine eyes deceive me? That's a @Tesla #ModelX bossing through that flooded area like it ain't no thang? Nice work @elonmusk 👊🏼 pic.twitter.com/QrjQOLMbaG

— Chad Mortensen (@mortchad) September 12, 2019
The news of a Tesla submarine has surfaced before, when earlier this year at a shareholder's meeting, Musk revealed that Tesla has a design for a personal submarine. If we ever see one come to market is another story.
Would you drive your Tesla through a flooded street like this driver?