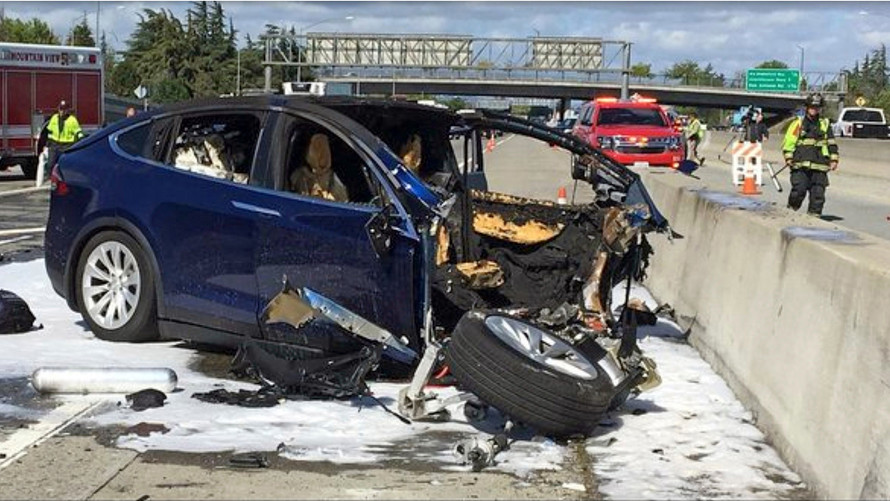 The National Transportation Safety Board (NTSB) criticized both Tesla and Apple at a hearing yesterday around the fatal crash of a Tesla in 2018.
The crash, involving a Tesla Model X driving by game developer Walter Huang, happened in Mountain View, California. The Model X was being driven on Autopilot, when it collided with a concrete barrier that divided the freeway and exit lanes.
According to the NTSB, Huang had the vehicle on Autopilot at the time of crash, and was playing a game on his mobile device.
The data indicated that he did not apply the brakes, there was no steering wheel movement detected, and the automatic emergency braking (AEB) and forward collision warning (FCW) did not activate.
During the 3-hour hearing, the NTSB layed partial blame with Tesla, saying more should be done to prevent owners from using their vehicles as if they can drive themselves, when they are not truly autonomous. NTSB chairman Robert Sumwalt said the following at the conclusion of the hearing.
"We urge Tesla to continue to work on improving their Autopilot technology and for NHTSA to fulfill its oversight responsibility to ensure that corrective action is taken where necessary. It's time to stop enabling drivers in any partially automated vehicle to pretend that they have driverless cars."
The NTSB also blamed Apple for not having a strict policy that prevents its employees from using mobile devices while driving. The investigation found that Huang was using his company issued cellphone to play a game at the time of the crash.
h/t [NPR]