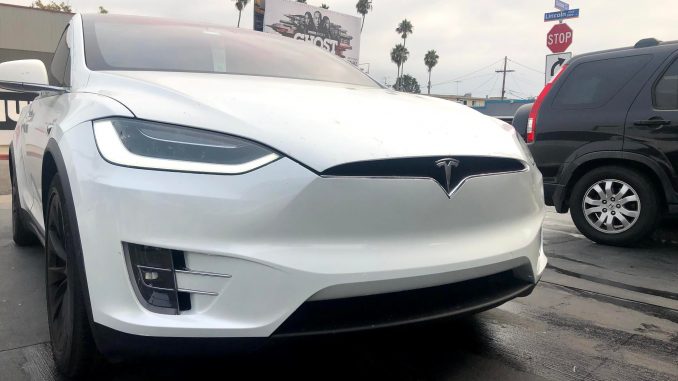 A popular aftermarket add-on to Tesla vehicles (any new vehicle actually) is Paint Protection Film, or PPF. This provides a thin layer of protection to your paint from scratches, door dings, and road debris.
PPF on a Tesla is particularly useful if you do a lot of highway driving because the large front end has no grill since there is no conventional gas engine to keep cool. This makes the large, painted front end particularly susceptible to damage from rocks and other road debris. Not to mention all the bugs.
The big problem with PPF is the cost, which for a full body wrap can cost upwards of $5,000. Even just a partial front-end wrap can easily set you back $1,500-$2,000+.
If you don't have that kind of budget you can always consider using Plasti Dip, as this Reddit user did on his Tesla Model X.
If you're unfamiliar with Plasti Dip, it is a spray-on rubber coating that can be applied in just minutes. For vehicle applications, it is usually used to change the colour of your wheels, black out your emblems, or even for a chrome delete. What makes it so useful is the rubber coating can be easily removed by just peeling it off.
Before heading out on a long road trip, u/rawdigits bought some matte white Plasti Dip which according to him, was a near perfect match to the white on his Model X. In the photos below, you can see the line between where the coating ends and the paint begins, but if the coating were taken right to the wheel arch, it would barely be noticeable.
In addition to covering the entire front of the SUV, he also sprayed the side mirrors and wheels. To test how well it might hold up while driving, he took a pressure washer to it and said the coating was strong enough to withstand the high pressure and there was no damage.
After returning from the road trip, he was easily able to pull off the Plasti Dip, which by this time was covered in dead bugs, revealing a perfectly clean front end.
We have heard of owners putting plastic wrap on the front end before road trips to protect from bugs, but this is the first time we've seen someone using Plasti Dip. It comes in a variety of colours, even offering a "Create Your Colour Kit" online, so there is likely a close match for all the Tesla colours.
Would you consider using Plasti Dip like this to protect your Tesla like this? Let us know in the comments below.