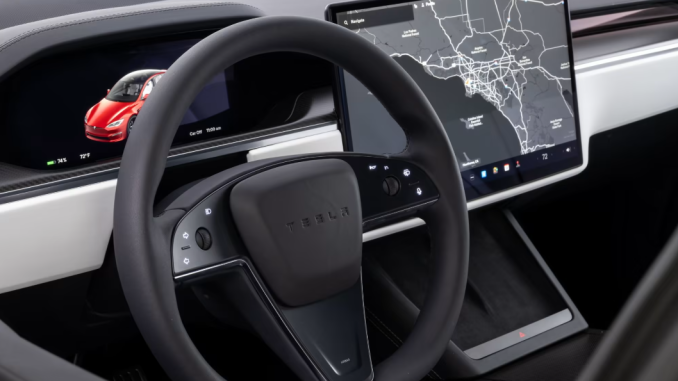 Tesla Model S and Model X owners with the yoke steering wheel can now purchase the retrofit to replace it with a round steering wheel. Tesla first announced this retrofit in January but it has been unavailable for purchase until now.
Perhaps the most controversial feature of the refresh Model S and Model X design was the yoke steering wheel. The half steering wheel received a lot of criticism from owners who said it wasn't practical for day to day driving, especially when trying to navigate tight turns. There was also the issue of no stalks for wipers of changing gears, and capacitive touch buttons for turn signals and the horn.
The issue of practicality could have been solved with steer-by-wire technology which would shorten the turning radius, but Tesla hasn't implemented this feature…yet. Tesla is also supposed to be adding a center horn, but we have been waiting for the software update to add this since early 2022.
In response to the criticism CEO Elon Musk said "no" when asked if a round steering wheel could become an option. Musk provided some rationale for the decision to add the yoke, saying in a tweet, "Yet another round wheel is boring & blocks the screen. FSD in panoramic mode looks way better with a yoke."
Someone was apparently able to convince Musk to change his mind as the round wheel became standard on the Design Studio in January, and the yoke became optional. Tesla also added a steering wheel retrofit to the online shop, but it wasn't going to be cheap at $960 in Canada or $700 in the US, and it wasn't immediately available.
According to an update to the Tesla Shop last night the retrofit is now available to purchase. Instead of ordering it online there is instead a QR code to take you to the product listing on the mobile app, where only Model S/X owners with a yoke can place an order. If you are on a mobile device you can also click on this link to open the product listing in your mobile browser.
When you buy the round steering wheel you don't get the stalks back however. Although the purchase does include installation through Tesla Service.
Are you ordering the retrofit for your Model S/X? Let us know in the comments below.