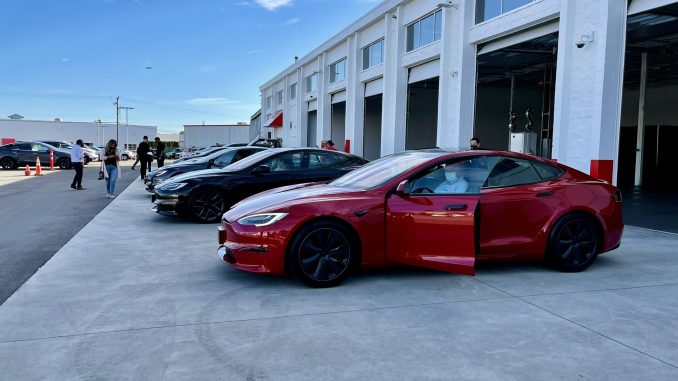 While the first official delivery of the refresh Model S in Canada took place last weekend, the team at Tesla Vancouver pulled out all the stops and held a special delivery event for six customers Thursday afternoon.
The event took place at the new Delivery Center in Surrey with employees and representatives from the official Tesla Owners Club of BC (sign up as a member if you live in BC and haven't already) on hand to congratulate the new owners.
https://twitter.com/TeslaOwnersBC/status/1441242636250091528
Taking a page out of the 2 Fast 2 Furious movie, the six Model S cars were brought out to their new owners through large bay doors at the rear of the building. The owners were then able to get in and enjoy their new cars for the first time.
Unveiling process 😎 pic.twitter.com/TITTcmQtmz

— Tesla Owners Club of BC (@TeslaOwnersBC) September 24, 2021
One of those new owners was a Drive Tesla reader, who took delivery of a black on black Model S with the standard Tempest wheels and shared the images below with us. The Tempest wheels won't be staying on for long as he already has plans to install aftermarket wheels next week.
Barry tells us the car was so amazing he drove it for the rest of the evening after leaving the event and didn't want to get out.
"Absolutely Amazing! Been out riding all evening. Tesla outdoes itself again."
The Vancouver event follows other deliveries across Canada that took place earlier this week in Alberta and Ontario.