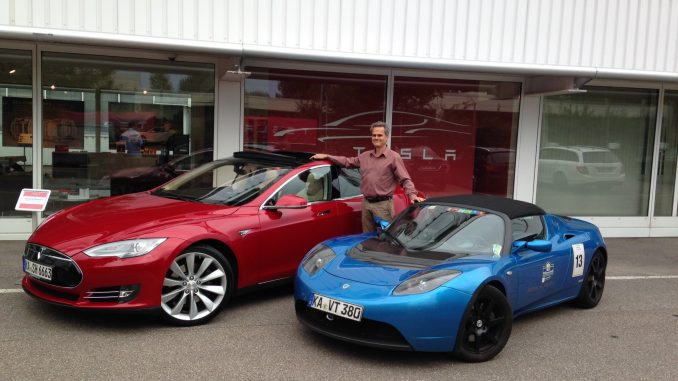 Less than one year ago in November 2019 Hansjörg Gemmingen set a new high mileage record with 1,000,000km (621,000 miles) in his 2013 Model S P85+.
Save with big discounts at your favourite Tesla accessories stores, like 10% off at Tesmanian, TesBros and Nikola Pro, plus many more. Coupon codes at DriveTeslaCanada.ca/deals.
What a journey! 1 Million electric km driven with my @Tesla Model S pic.twitter.com/JHSIhGfEbl

— Hansjörg Gemmingen (@gem8mingen) November 28, 2019
If you average that out Gemmingen has driven about 200,000km per since he purchased the Model S in 2014.
While most people have driven a lot less this year due to the coronavirus pandemic, Gemmingen has kept on trucking and maintained his torrid pace. On Wednesday he teased that he was approaching 1,200,000km (745,000 miles) on the odometer, and today he announced on Twitter he has reached the new high.
Get 10% off at Tesloid.ca or Tesloid.com with coupon code DTC10 at checkout. Quality Tesla accessories with FREE shipping across Canada and the US.
#NeuesProfilbild pic.twitter.com/biBtperC0l

— Hansjörg von Gemmingen – Hornberg (@gem8mingen) October 15, 2020
Tesla CEO Elon Musk was even impressed with the achievement, congratulating Gimmengen on Twitter.
The 1,200,000km haven't been maintenance free, as he has replaced the rear motor four times and is currently on his second battery pack.
If you think this was impressive, then you should also know he has an original Tesla Roadster with over 640,000km.
What's the highest mileage car you've ever owned, Tesla or otherwise? Let us know in the comments below.