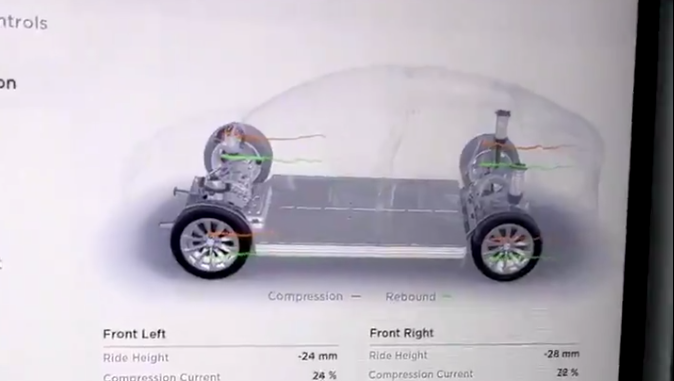 Tesla started releasing its latest 2020.32.2 software update yesterday, with a lot of Canadian cars being part of the deployment.
Looks like a big push of 2020.32.2 to Canadian cars right now 🇨🇦 https://t.co/VfqkRCtV3b

— Drive Tesla 🇨🇦 (@DriveTeslaca) August 20, 2020
Included in the update, exclusively for Model S and X owners with adaptive suspension, are new detailed readings and a real-time visualization of the suspension.
In the release notes, Tesla describes that with the new system you can see "a real-time visualization of how the suspension system is dynamically adjusting each wheel's damping to account for changing road conditions."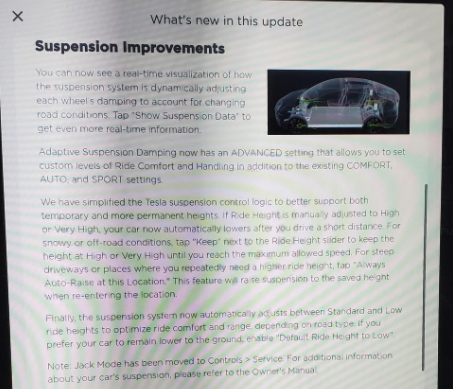 Tesla hacker @greentheonly shared a video of the new feature in action, showing the visualization and the incredible accuracy of the readings, which measure down to the millimeter.
Wow, so cool to see the real-time visualizations, wish this was available in the 3/Y 💪 https://t.co/nyooZAXteV

— Drive Tesla 🇨🇦 (@DriveTeslaca) August 20, 2020
As you can see in the video, there are separate readings for each wheel showing Ride Height, Compression Current, Rebound Current, and Body Acceleration.
Above the stats is a real-time visualization of the vehicle and suspension, with red lines to show compression and green lines to show rebound.
Unfortunately this is not available for the Model 3 or Model Y, as neither vehicle has adaptive air suspension. There have been rumours in the past the Model 3 may get the upgrade, but those were quickly squashed by Tesla CEO Elon Musk.