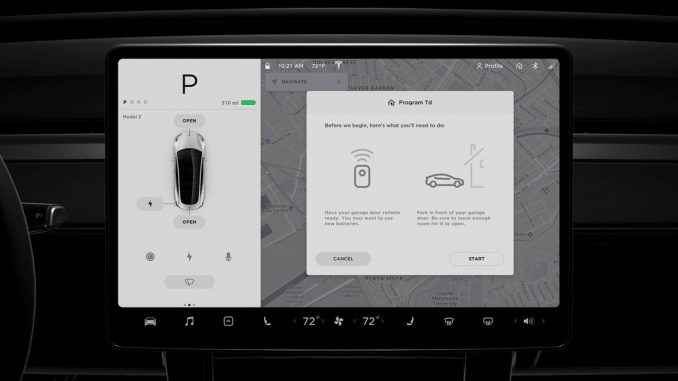 An unannounced upgrade in Tesla's latest 2020.32.2 software update is going to make some owners who have Homelink installed very happy.
Homelink is a wireless transmitter integrated into the vehicle that can automatically open and close garage doors and gates, without the need for any buttons.
Tesla used to include the feature as standard equipment on the Model 3, but removed it and made it a $400 CAD accessory in the Tesla Shop.
A problem many owners complained about with Homelink was the notification pop-up on the display was obtrusive, and would block your view of the back-up camera if you were reversing into your garage. If you're wondering why a pop-up is needed, it notifies you when the garage door or gate is going to open/close and gives you the option to skip it.
Feature request for those of us who back into the driveway @tesla @elonmusk. The homelink pop-up sits in the middle of the rear camera monitor, blocking a good portion of what's right behind you (in this case, my wife's car). Any way it could be moved to the area shown in red? pic.twitter.com/EeV4BJ9quY

— Tesla Owners of Michigan (@teslaownersmi) August 13, 2020
Once again it appears Tesla has listened to the feedback and made the pop-up semi-transparent, allowing to see some of what is behind you on the display.
Homelink menu now appears as transparent on top of rear camera in 2020.32.2. from r/teslamotors
While the pop-up still blocks part of the back-up camera, you can at least see through it now. If you really need an unobstructed view, you can always slide the view down to remove the two new side views that were added in another recent software update.