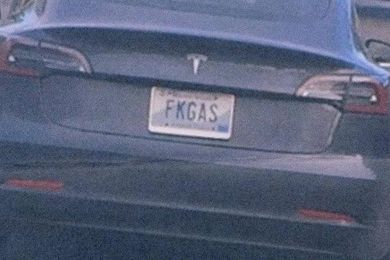 A Tesla Model 3 owner has won his case against his local Division of Motor Vehicle (DMV) and will be allowed to keep his vanity licence plate.
Save with big discounts at your favourite Tesla accessories stores, like 10% off at Tesmanian, TesBros and Nikola Pro, plus many more. Coupon codes at DriveTeslaCanada.ca/deals.
Sean Carroll applied for and received the licence plate "FKGAS" after his daughter suggested the idea to him. According to Carroll, the abbreviation is intended to refer to how charging his Model 3 with solar panels is like using fake gas. He did also agree it could be perceived in a different way, and the way most people would likely read it as they drove by.
Five months after receiving it someone filed a complaint against the plates. He was subsequently ordered by the DMV to return them or his registration would be cancelled.
The Model 3 owner didn't agree with the decision, and decided to take it court on the grounds it violated his right to freedom of speech.
On Friday, a judge agreed saying the DMVs decision to deny vanity plates that are "offensive to good taste" likely violate the country's First Amendment.
Get 10% off at Tesloid.ca or Tesloid.com with coupon code DTC10 at checkout. Quality Tesla accessories with FREE shipping across Canada and the US.
According to local media reports, the DMV has approved more than 41,000 vanity plates, denied dozens of others, and keeps a list of prohibited plate combinations that it regularly updates.