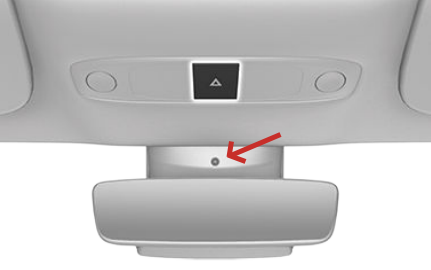 When the Tesla Model 3 was launched in 2018, it included a small pin-size camera above the rear-view mirror which remained dormant until earlier this year.
The selfie camera finally became active in the 2020.24.5 software update in June, giving owners the option to have it on to record images and video in the event of a collision or "safety event".
CEO Elon Musk has previously revealed the original intention behind the camera was for it to be used in Robotaxi's. In the case of vandalism to your car, you could check the footage to see which of your passengers was responsible.
It's there for when we start competing with Uber/Lyft & people allow their car to earn money for them as part of the Tesla shared autonomy fleet. In case someone messes up your car, you can check the video.

— Elon Musk (@elonmusk) April 5, 2019
Now it appears it is going to be used for something else entirely – driver monitoring. According to hacker @greentheonly, Tesla recently added code about two weeks ago that shows scenarios the camera would try to detect.
In case you were wondering what does the selfie camera in model 3 currently try to detect:
BLINDED
DARK
EYES_CLOSED
EYES_DOWN
EYES_NOMINAL
EYES_UP
HEAD_DOWN
HEAD_TRUNC
LOOKING_LEFT
LOOKING_RIGHT
PHONE_USE
SUNGLASSES_EYES_LIKELY_NOMINAL
SUNGLASSES_LIKELY_EYES_DOWN

— green (@greentheonly) October 4, 2020
The list is quite extensive, with everything from 'EYES_CLOSED' to something a little more difficult to detect like 'SUNGLASSES_LIKELY_EYES_DOWN'. It also will apparently be able to detect when the driver is using their phone with 'PHONE_USE'.
Tesla has received a bit of heat for not having a driver monitoring system, instead relying on driver nags based on the pressure applied to the steering wheel, which can easily be hacked. This kind of driver monitoring could potentially replace those nags.
This camera is only available in the Model 3 and Model Y currently, but green indicates the code for Model S and Model X vehicles have the header for the camera, but nothing is plugged into it.
So far the cabin camera is only active in the US, as the feature skipped Canada altogether and there has no been no sign of it coming here soon. One possible reason is the tough privacy laws in Canada, which are known to be some of the strictest in the world.
If you haven't seen it before, green was able to hack into the camera earlier this year giving us our first look at the view from the selfie-cam.